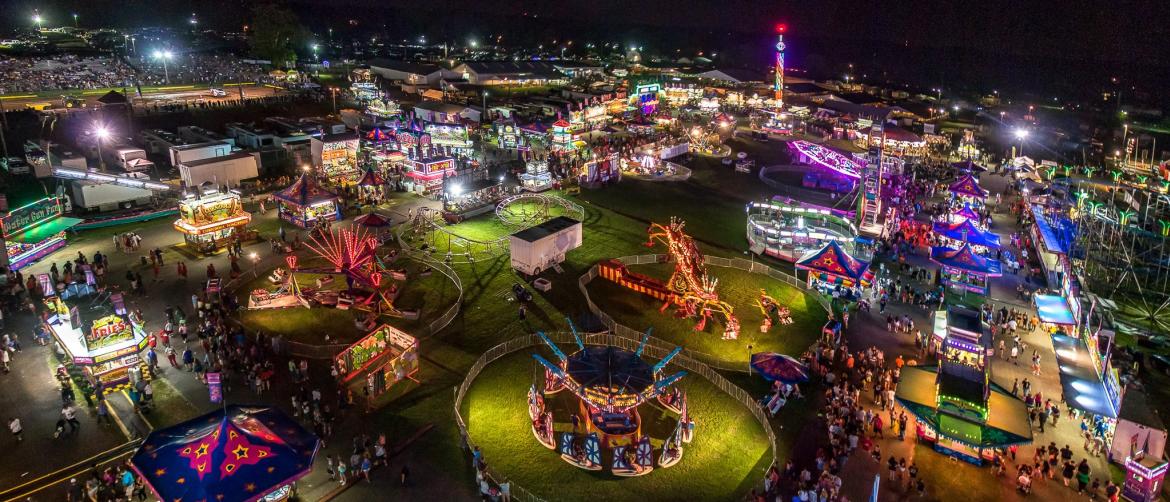 Prince William, Virginia is the perfect place to enjoy the end of Summer. From music festivals to the largest county fair in VA you can find a variety of activities to enjoy throughout the last few weeks of Summer in D.C.'s Countryside.  Events include concerts, festivals and family friendly events for the community.
The largest County Fair in the state of Virginia is back! The annual event in Manassas includes livestock exhibits, home arts exhibits, tractor pulls, a rodeo, demolition derbies, baby contests, games, carnival rides, live music and a variety of midway shows.  E-Mail Nicole for High Resolution Images.
Shop Virginia's Largest Outlet Mall, Potomac Mills, and other top shopping destinations such as Stonebridge at Potomac Town Center, Virginia Gateway, Manassas Mall and others and save during Virginia's Sales Tax Holiday (School Supplies, Clothing, & Footwear).
Labor Day Weekend Events (8/30 – 8/31)
8/30-31 Waterstock & Pig Roast at Tim's Rivershore (Dumfries)  WATERSTOCK IS BACK! Join the team at Tim's Rivershore Labor Day weekend for great food, fun, and live music!
8/30 Annual Labor Day Craft Festival at the Winery at La Grange (Haymarket) Join the Winery at La Grange team for local foods, crafts, and so much more! The Winery will be offering wine specials, food trucks and music all weekend!
8/30 Stormin' Norman at The Electric Palm (Woodbridge)  Sip cocktails and savor live music while you say goodbye to Summer at the Electric Palms outdoor riverfront bar.
8/31 – The Reflex at Uptown Alley (Manassas) Come one, come all, to 80s night at Uptown Alley, featuring the DC's Award-Winning 80s Tribute Band, The Reflex! Put your sunglasses on at night... and get make your way out for the biggest show around!
August Events
8/2 Ladies Night at the Winery at La Grange (Haymarket) Join the Winery at La Grange team for a fun, colorful and calming evening at the winery. Itokami brings to you a fun art form that you can wear and flaunt. Go gather your friends, choose your fabric and meet them at the Winery.
8/3 Florida Georgia Line: Can't Say I Ain't Country Tour at Jiffy Lube Live (Bristow) Head over to Jiffy Lube Live for the Can't Say I Ain't Country Tour headlining Florida Georgia Line and featuring Dan + Shay, Morgan Wallen, Canaan Smith, and Hardy.
8/6 Gainesville Farmers Market (Gainesville) farmers market with local produce, meats, eggs, hot foods, baked goods, and more. Come out and enjoy live music, cooking demonstrations, kids' events, and more!
8/9 Boo at the Pool (Woodbridge) Halloween is haunting Waterworks...Music, Costumes and More! Come on out and do the Monster Mash with the Waterworks team. Party starts at 3pm! Come out early and spend the day with there.
8/9 The Reagan Years – 80's Tribute Band at Farm Brew Live (Manassas) The Reagan Years are the East Coast's premier 1980's tribute band. This seasoned quintet helped pioneer the 80's tribute band concept in 1996 and have become one of the Mid-Atlantic's strongest drawing acts. The Reagan Years plays the greatest Pop, Rock, New Wave and Hair Metal hits of the Video Era.
8/10 Family Day at the National Museum of the Marine Corps (Triangle) Families are invited to get wet as they explore buoyancy, hydraulics, and the connection of the Marine Corps to the sea!
8/10 The Band of the Nation's Capital at River Mill Park (Occoquan) the 257th Army Band comes back to River mill Park for an upbeat and heartwarming concert from 7:00-8:30pm. 
8/10 Wicked Jezabel at L&B Taphouse and Grille (Haymarket) Come out to check out the newly remodeled L&B Taphouse, formerly Lion & Bull, and enjoy great live music and their new menu.
8/11 KISS: End of the Road World Tour at Jiffy Lube Live (Bristow) Head over to Jiffy Lube Live for the KISS: end of the road world tour where they make one of their last stops together. Concert starts at 7:30pm.  
8/11 Stogie Sunday at Tin Cannon Brewing Co. (Gainesville) Tobaccology will be at Tin Cannon Brewing Co. selling their fine cigars while you relax with one of their delicious craft beers.
8/16 Native American Campfire at Brentsville Courthouse Historic Centre (Bristow) Enjoy a campfire and roasted marshmallows at Brentsville Courthouse Historic Centre as you learn about the native peoples who lived in the Prince William area long before Europeans arrived. Interact with hands-on artifacts, learn some of the game's children played, and compare how Native Americans lived close to 400 years ago to how we live today.
8/24 Swim, Bike, Run Quantico Tri at Marine Corps Base Quantico (Quantico) Located on the famed training grounds for all future Marine Officers, this event features a 750m open water swim in the Potomac River followed by a swift 20K bike ride. Once athletes are finished with the bike course, they will run a scenic 5K run.
8/24 Magic Treehouse: Space Mission show at the Irene V. Hylton Planetarium (Woodbridge) Travel with Jack and Annie, stars of the Magic Tree House® best-selling children's book series, as they search for answers to a mysterious riddle they discover in a written note signed "–M." 
8/24 Haymarket Music Fest in the Town of Haymarket (Haymarket) Bring a blanket or lawn chair and enjoy a day of Music, Food, and Crafts. Proceeds to Benefit the DC/VA/MD Chapter of the ALS Association.
8/25 Zumba at Eavesdrop Brewery (Manassas) Zumba with Gyselle and Eavesdrop Brewery bring you… Zumba at Eavesdrop. Come join us for a full hour of ZUMBA and some craft beer! Zumba fitness is a workout that is fun, energetic, and makes you feel amazing. All fitness levels are welcome.
8/26 – 8/28 Potomac Nationals vs. Myrtle Beach Pelicans (Woodbridge) Carolina League baseball action in a family friendly atmosphere at the Potomac Nationals host the Myrtle Beach Pelicans (Cubs affiliate) in a 3-game series. Game time is 7:05pm for all 3 nights.