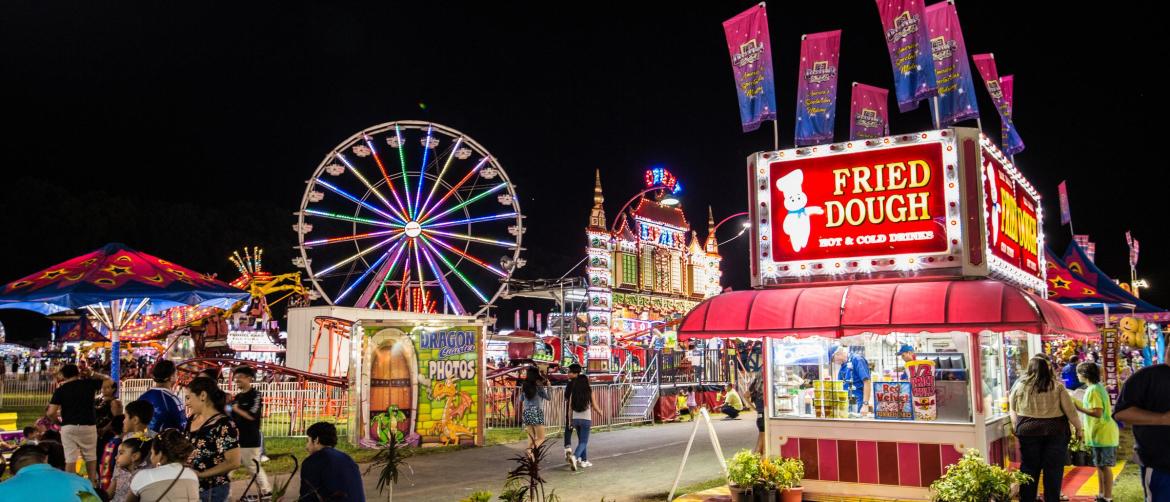 Prince William, Virginia is the perfect place to enjoy the end of Summer. From festivals to the largest county fair in VA you can find a variety of activities to enjoy throughout the last few weeks of Summer in Prince William, Virginia.  Events include concerts, festivals, and family-friendly events for the community. Prince William, Virginia | Come enjoy its open spaces and friendly faces.
Below is a listing of upcoming events, festivals, and activities that occur in Prince William County this August. Events include socially distant in-person and virtual events for the community.  Please contact each venue for event confirmation.
SIGNATURE EVENTS:
8/6 – 8/8 Virginia Sales Tax Holiday (Countywide) Shop Potomac Mills, Manassas Mall, Stonebridge at Potomac Town Center, and Virginia Gateway, and more during the Virginia Sales Tax Holiday. 
8/13 – 8/21 2021 Prince William County Fair (Manassas) Plan a weekend or a night out to get away and enjoy the largest County Fair in Northern Virginia. From farm animals to demolition derby's this is a must-stop during your visit to Prince William County this year.
8/13 – 8/15 USA BMX East Coast Nationals (Woodbridge) The 2021 USA BMX Nationals series heads east to Prince William, Virginia for a weekend full of heavy-hitting NOVA BMX racing!
8/1 – 8/31 Summer of Sunflowers Festival at Burnside Farms (Nokesville) Learn how to pick Sunflowers and Gladiolus. The middle of the month of July is usually when the sunflower fields begin to bloom. They plant over 30 varieties of "cutting" sunflowers on eight acres in successive crops to ensure at least six weeks of blooming flowers - through Labor Day. They also have one of the nation's only sunflower mazes! The sunflower maze is about 5 acres and only blooms for about two weeks.  Open through Labor Day weather permitting.
Virginia Craft Beer Month Events (Month of August):
Every Sunday in August – Sunday Funday at Brew Republic Bierwerks (Woodbridge) Sunday means #SundayFunDay (patent pending) in the taproom, featuring beer, pitchers, brew pong, $5 mimosas, board games, pro sports on TV, and delicious food. Plus, kids eat for free! * Doors open at noon. *One free kids' meal per regular entree purchase.
Every Thursday in August - Brains & Beer Trivia at Tin Cannon Brewing Co. (Gainesville) Brains & Beer Trivia happens every Thursday night, starting at 7:00 PM. Bring your team of up to six players, and grab dinner from El Tio Tex-Mex, which will be on-site from 5-9 PM! The winning trivia team gets a prize!
8/1 90's Block Party at Eavesdrop Brewery (Yorkshire) Dressing up in 90's apparel is highly encouraged! Grab your scrunchies, acid-washed jeans, and neon shirts to dress the part for the '90s. We will also have *LIVE MUSIC (Fri-Sun) *Junction BBQ Pop-Up *Eugene's Sausage and Fries * Baby Goats (Sunday, August 1st).
8/1 Pups and Pints at Ornery Beer Company (Manassas) What is better than Pups and Pints!
Come out to Ornery for happy hour pricing while your dogs socialize. Food Truck on-site, pet vendors on site, and of course beer!
8/21 Schmidt Live at Water's End Brewery (Lake Ridge) Come out and enjoy great beer, great company, and great music at Water's End Brewery in Lake Ridge on Saturday, August 21st, from 6 pm-9 pm.
8/21 Live Music at Cedar Run Brewery (Nokesville) Moonlight Ride performs acoustic rock renditions of songs you love, featuring three-part harmonies and dynamic, "unplugged" arrangements of guitar-based Rock, Pop, and Americana songs from across the decades. 
8/21 Slippery When Wet – The Ultimate Bon Jovi Experience at Farm Brew Live (Manassas) Rock out to your favorite Bon Jovi tracks at Farm Brew Live as their Summer tribute series continues this month. This is a free concert that starts at 8 am and runs until 10:30 pm.
8/28 Reflex (80's) Band at The Farm Brewery at Broad Run (Haymarket) Enjoy your favorite 80's cover songs while sipping on cold craft brews and enjoying the last of Summer.
More August Events:
8/4 Fee Free Day at Prince William Forest Park (Triangle) Come out and help the Department of the Interior and National Park Service celebrate the one-year anniversary of the Great American Outdoors Act with a Free Entry Fee Day.
8/7 Bee Encounter at Rippon Lodge (Woodbridge) Come learn all about the history and wonder of bees and beekeeping during this special up-close and personal encounter. See Rippon Lodge's beehive and its workers making honey, feeding the queen, and more.
8/7 Jimmy Buffet and the Coral Reefers at Jiffy Lube Live (Bristow) Concert season is in full swing this Summer at Jiffy Lube Live. Come out and enjoy the beachy tunes of Jimmy Buffet.
8/7 & 8/21 Movies at the Pfitz (Woodbridge) Come out for a night of fun with your family and friend at this pop-up drive-in movie theater. Enjoy Saturday, Aug 7th: Captain America – The First Avenger & Saturday, Aug 21st: Harry Potter & The Sorcerer's Stone. Gates open at 7 pm. Movies to start approx. 9 pm.
8/7 Live Music by Bad Panda at Lion & Bull (Haymarket) Join the Bad Panda crew for a warm summer evening of music and "Panda"monium at The Lion and Bull in Haymarket, VA.
8/13 – 8/22 Discover Occoquan Week (Historic Occoquan) This fun event in August celebrates the town businesses and features more than a week of free activities including interactive classes and free demonstrations hosted by Occoquan businesses, a scavenger hunt, history tour, and much more.
8/14 Bluegrass Concert at Brentsville Courthouse Historic Site (Bristow) Gates open at 4:00 p.m.; Concert starts at 5:00 p.m., Admission is $10 per person. For hundreds of years, the Brentsville Public Lot has been a place of entertainment and festivities and we are continuing that tradition into today! Bring your chairs, kick up your heels, and enjoy some Bluegrass and comfort food at the historic centre! 
8/18 Rocknocerous – Kids Entertainment at Stonebridge at Potomac Town Center (Woodbridge) 10 am to 11 am enjoy children's entertainment on Wednesday morning for live music and family time.
8/21 Car Show at Rippon Lodge Historic Site (Woodbridge) Enjoy a display of vintage and classic cars on the lawns of Rippon Lodge Historic Site.  Ask questions, listen to groovy music, and take pictures of the beautiful vehicles. Guided tours of the lodge, conducted on the hour, are $5 per person.
8/21 Justin Suede Live at Uptown Alley (Manassas) Spend the afternoon and evening at this unique family-friendly venue that offers bowling, arcade games, laser tag, a full-service restaurant, and Live Music too!
8/28 House of Mercy's 15th Anniversary Celebration Food Truck Festival (Manassas) Enjoy an afternoon of fun, food, and prizes as we celebrate the 15th Anniversary of the House of Mercy Food Pantry! Enjoy the best food Northern Virginia food trucks have to offer along with raffles for prize baskets! Tour our facilities that have been serving Northern Virginia for 15 years! 
###