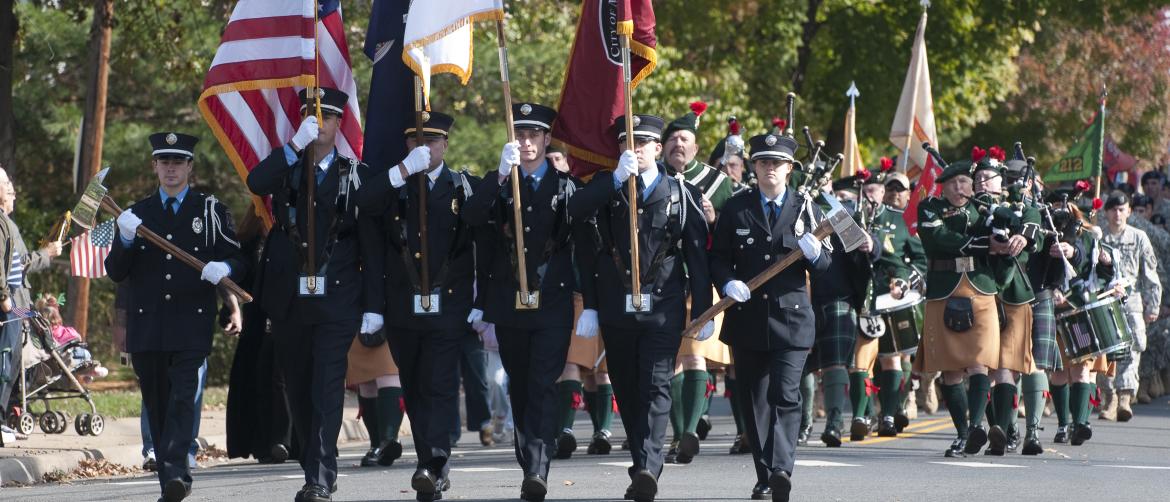 Prince William, Virginia is the ideal destination to enjoy the Fall season. Located 30 miles from Washington, DC, visitors can experience a variety of Veteran's Day commemorations, wine & food festivals, murder mystery events and more. Events include concerts, festivals and family-friendly events for the community. This is a snapshot of just a few of the great events you can find in D.C.'s Countryside this month, more events can be found at VisitPWC.com/Events.
To view events by date or filter by type, visit VisitPWC.com/Events.
Halloween Weekend Events (11/1 – 11/3):
11/1 Costume Contest & Trick or Treating at Cedar Run Brewery (Nokesville) Celebrate Halloween weekend at Cedar Run Brewery. They will be holding costume contests for adults and children and have trick or treating stations set up around the brewery.
11/1 – 11/2 The Death Trail – Celebrating Ten Years of Terror (Dumfries) As dusk settles around the foggy woods of Dumfries VA. Shadows begin to move through the trees. It quickly becomes clear why only the brave and foolish are willing to test fate along these dark and twisting trails. Come and experience it for yourself!!
11/1 – 11/3 Virginia's Heritage Wine & Food Festival at Effingham Winery (Nokesville) A weekend-long festival, in connection with American Evolution, celebrating the best in Virginia's Customs and Cuisine. Featured will be orchards, farmers, musicians, oyster farms, craftspeople and of course wine, all with their roots in Virginia, providing samples, and products for sale. At the Center is Virginia's Heritage wine, and products from some of local wineries, as well as Effingham Manor. Guests are invited to taste and sample all that the festival has to offer and to really enjoy a more traditional glimpse into Virginia's Heritage
11/1 – 11/2 Haunted Wine Tours at the Winery at Bull Run (Bull Run) Join the Winery at Bull Run team for a lantern-led walking tour and full wine tasting through the historic and hallowed grounds of The Winery at Bull Run. Considering more than 22,000 casualties occurred on the Manassas Battlefield during the American Civil War, it should come as no surprise that tales of shadowy apparitions, orbs, and unexplained cannon fire abound.
11/2 – 11/3 Paranormal 101 & Overnight in the Brentsville Jail (Bristow) Brentsville has a diverse history from being the County seat for Prince William County to now being a very quiet town. Today, many residents claim that the site haunted by spirits from the past. Brentsville Courthouse Historic Centre is partnering with East Coast Research and Investigation of the Paranormal (ECRIP) to host a paranormal seminar and investigation at Brentsville.
Veteran's Day (11/11) Events & Celebrations:
11/7 Veterans and the Arts Initiative "Exploring Identity with Women Veterans" Gallery Reception at Buchanan Partners Art Gallery (GMU Manassas Campus) The exhibition features the work of seven women who served during the Vietnam War-era through post-9/11-era and in several branches of the military, and it demonstrates their perceptions and reflections, as well as the photographic techniques that they learned together.
11/9 Celebrating Veterans and the Arts at the Hylton Performing Arts Center (Manassas) Enjoy a celebratory afternoon of interactive arts experiences for Veterans, Servicemembers, their families, military caregivers, and the community. Kicking off its 5th year, this free, festive event features hands-on visual arts activities, guitar workshops, a songwriting presentation by military kids and teenagers.
11/9 Flags for our Veterans at Quantico National Cemetery (Triangle) Please join G-F Grad Events for the 2nd Annual "Flags for our Veterans" Event on Saturday, November 9, 2019, to honor our departed Veterans at Quantico National cemetery.
11/10 National Museum of the Marine Corps Cutting Ceremony (Triangle) Join the National Museum of the Marine Corps team as they celebrate the Marine Corps Birthday with a traditional cake-cutting ceremony.
11/11 Free Entry to Prince William Forest Park (Triangle) In celebration for Veteran's Day the National Park Service is offering free entry to Prince William Forest Park.
11/11 Veteran's Day at Brew Republic Bierwerks (Woodbridge) The Brew Republic Team wants to thank all the Vets who protect our freedom with 20% off all Growler Fills until 9 pm on Veterans Day, along with a 10% Military Discount on food. All veterans welcome; thank you for your service!
11/24 Run for the Wounded 5K, 10K & Half Marathon at Prince William Forest Park (Triangle) This race is for a great cause through a scenic park.  What isn't to love?  Run through the hills of Prince William Forest Park while benefiting the Wounded Warrior Project.  Enjoy the paved roads of the park for the half-marathon or try the trails for the 5k/10k through the woods.
More November Events:
11/3 Pints and Poses Yoga at Cedar Run Brewery (Nokesville) Kelley Gallop of Boundless Bliss Yoga will concentrate on yoga poses, breathing practices, relaxation, and meditation. The class is designed for beginners and those who need to approach the restorative movements of yoga at a slower, more controlled pace. 
11/9 Murder Mystery Dinner at Effingham Manor Winery (Nokesville) Save the date!
"Murder on the British Express", a Murder Mystery Dinner Show with Stage Coach Theatre Company.
11/9 Milk & Cookies with Santa at Manassas Mall (Manassas) Spend the morning in the Manassas Mall Community Room during their Festival of Trees to get into the holiday spirit early, there will be photos with Santa, a cookie decorating station, storytime with service dogs, crafts & door prizes! Funds raised benefit Semper K9's mission of providing custom-trained service dogs to wounded veterans at no cost.
11/10 2 up 2 down VA Go Go Band Showcase at Babylon (Woodbridge) Come out and experience for the 1st time ever, this 6-band showcase featuring 100 Proof Band, Seductive Sounds Band, Slade Rhythm Band, Collective Measures Band, Femme Fatale Band and Major League Band with Special Guest Steve Roy.
11/22 Annual Tree Lighting in Historic Occoquan (Occoquan) The Holiday Open House rings in the holiday season as the town is decorated with an array of holiday decorations and our unique businesses stay open late with special activities from 4 pm to 8 pm.
11/23 Pink Floyd: Dark Side of the Moon Laser Show at the Irene V. Hylton Planetarium (Woodbridge) Based on Pink Floyd's 1973 album of humanitarian, political and philosophical empathy, Dark Side of the Moon is one of the most startling and bizarre laser light shows of all time! 
11/23 – 11/30 Northern Virginia Ballet: The Nutcracker at Hylton Performing Arts Center (Manassas) Start your holiday season with NVB's traditional and family-friendly production of The Nutcracker.  Featuring guest artists and the international award-winning dancers of NVB/ARB, the performance includes exquisite costuming and Russian-produced sets. 
11/26 Gobble Up Turkey Trot at Marine Corp Base Quantico (Quantico) Unleash a pre-emptive strike on holiday calories by running a 10K along the tree-lined roadways of Marine Corps Base Quantico. Runners of all ages are invited to gobble up the Turkey Trot 10K or 1 Mile. Open to runners ages 8 and over, the 10K features the most original and wild Turkey Trot participant shirt.
###