Get those cameras ready 📸 - the flower blooms are coming!
Every year, hundreds of thousands of visitors flock to the Washington, DC region between March and April to capture the beautiful Cherry Blossoms blooming along the Tidal Basin with the scenic backdrop of the National Monuments. The magnificent display of colorful trees signals that Spring has finally arrived...it is also one of the busiest times in D.C.
If you're looking to stay just a short drive from DC, the perfect choice is Prince William, Virginia. Home to historic sites & battlefields, Marine Corps Base Quantico, over 36 square miles of parks and greenspace, as well as Instagram-worthy Flower Festivals.
Pick fresh Tulips from the millions of bulbs planted during The Festival of Spring or enjoy the largest collection of Virginia Bluebells in the area at The Bluebell Festival.
Hurry up, reserve your affordable hotel and celebrate SPRING in Northern Virginia, USA!
1) Experience DC's Cherry Blossoms
National Cherry Blossom Festival 
March 20 - April 14, 2019 
(Peak Bloom: April 1, 2019)​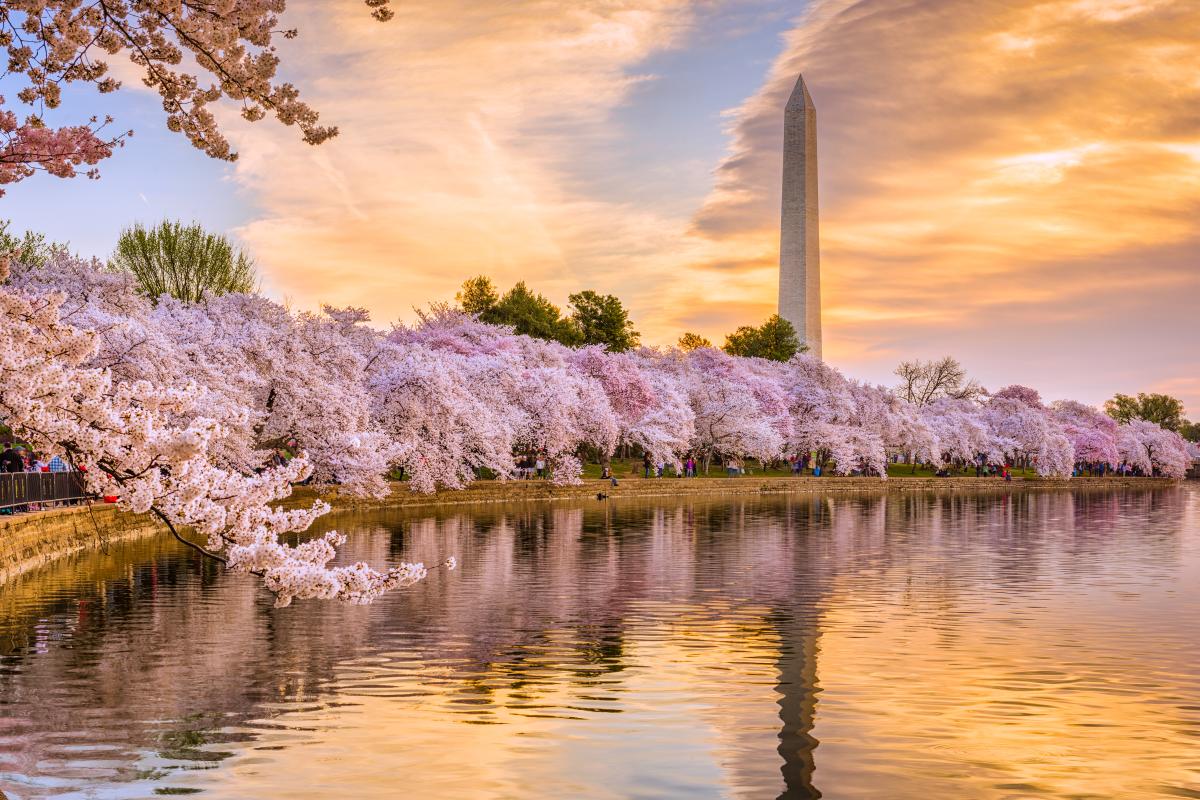 (
Pictured:
The Tidal Basin in Washington DC)  
The National Cherry Blossom Festival is an annual festival that celebrates the gift of the cherry blossom trees and their symbol of enduring friendship between the citizens of Japan and the United States. 
When staying in Prince William, VA, you can easily access the Cherry Blossom Festival via:
* Parking Tip: Use a parking app like Parking Panda to reserve your parking space in DC
SAVE WITH AFFORDABLE DC AREA HOTELS!
2) Pick your own tulips and daffodils
The Festival of Spring
April 15 - April 28, 2019
(Peak Bloom - April 18, 2019)
Burnside Farms
11008 Kettle Run Road
Nokesville, VA 20181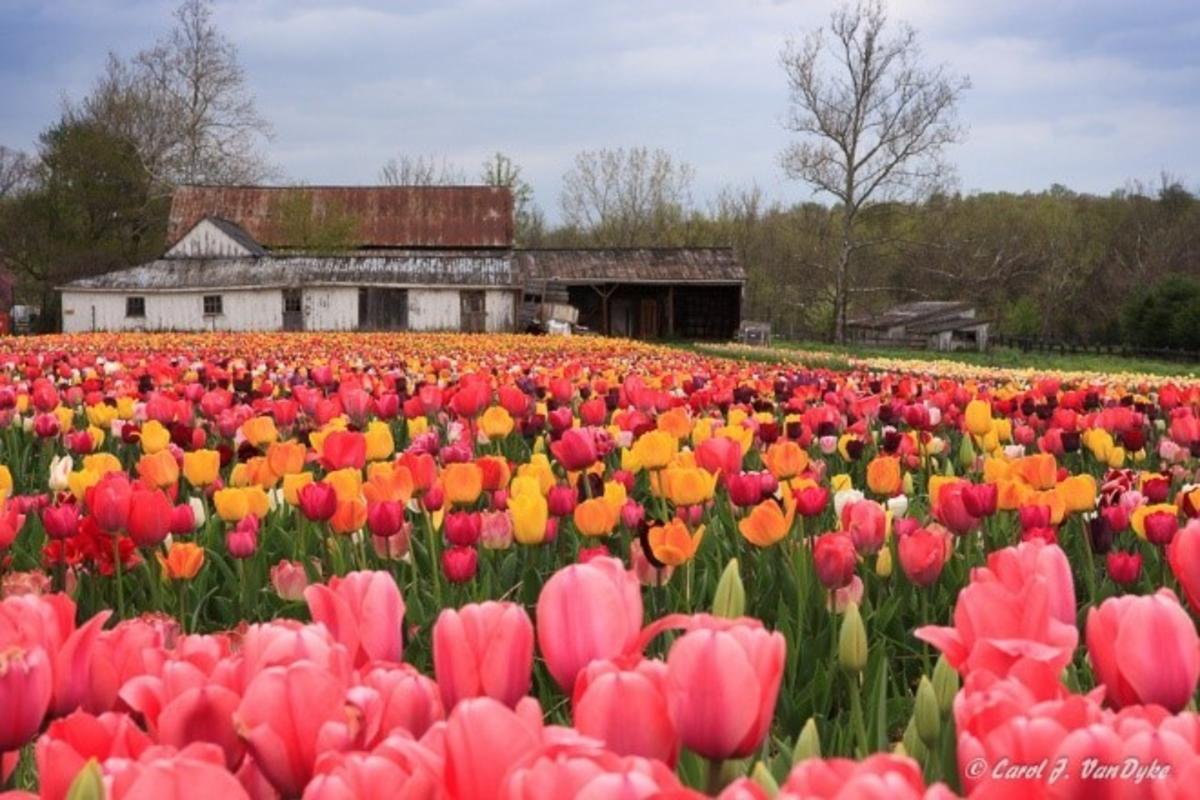 (
Pictured:
Burnside Farms)  
Burnside Farms, located in Nokesville, VA plants more than a million tulips and daffodils for one of the most spectacular pick-your-own flowers event in North America. The Festival of Spring typically begins mid-April. Exact timing is challenging to predict due to spring weather patterns. Please check Burnside Farm's Facebook page prior to visiting to verify field status and admission times. 
Festival of Spring
Burnside Farms is a family-friendly farm with plenty of shaded areas and picnic tables. So, stop by one of the many restaurants at Virginia Gateway, get your food to go, and enjoy it while marveling at thousands of tulips and daffodils. 
3) Enjoy Virginia Bluebells
The Bluebell Festival
April 14, 2019
Merrimac Farm
15020 Deepwood Lane
Nokesville, VA 20181

Celebrate nature with a visit to one of the largest patches of Virginia Bluebells in the area.  Merrimac Farm is a protected farm located on 302 acres in Nokesville, VA. The Bluebell Festival at Merrimac Farm will be held on Sunday, April 14th from 10 a.m. - 4 p.m.  Some of the best naturalists in Northern Virginia will be leading tours and activities throughout the day. This event is family-friendly and free.
2019 Tour Schedule
2019 Tour Schedule
10:20 AM

Dave Larson
 PW Conservation Alliance

Birding the Bluebell Trail

10:40 AM

Judy Gallagher
VA Master Naturalists

Bees & other pollinators that make wildflowers possible

11:00 AM

Kevin Parker
PW Conservation Alliance

A Home for Every Bird

11:20 AM

Bill Olson
Janis Stone 
Historic PW/PWCA

History in the woods at the Green Level Cemetery

11:40 AM

Julie Flanagan
New Earth Photography

Native trees, forest ecosystems

12:00 PM

Rachel Habig Myers
PW Conservation Alliance

Easy Winter Tree ID

12:20 PM

Valerie Huelsman
PWC Forest Pest Management

How do bugs affect forest health?

12:40 PM

Eli Hosen
PW Conservation Alliance

People in the woods

1:00 PM

Charles Smith
Prince William Wildflower Society
Native plants - interaction with wildlife and role in the floodplain environment

1:20 PM

Larry Meade
Northern Virginia Bird Club

Things that fly -- Birds, butterflies and dragonflies

1:40 PM

Nancy Vehrs
VNPS/PWWS

Woodland wildflowers and other native plants

2:00 PM

Jim Klackowicz
Friends of Leesylvania State Park

Riparian Ecosystems

2:20 PM

Jim McGlone
VA Dept. of Forestry

Forest Ecosystems

3:00 PM

Charlie Grymes
PW Conservation Alliance

Floodplain Ecology
Additional details regarding the Festival's activities and tour schedules can be found on the event website.