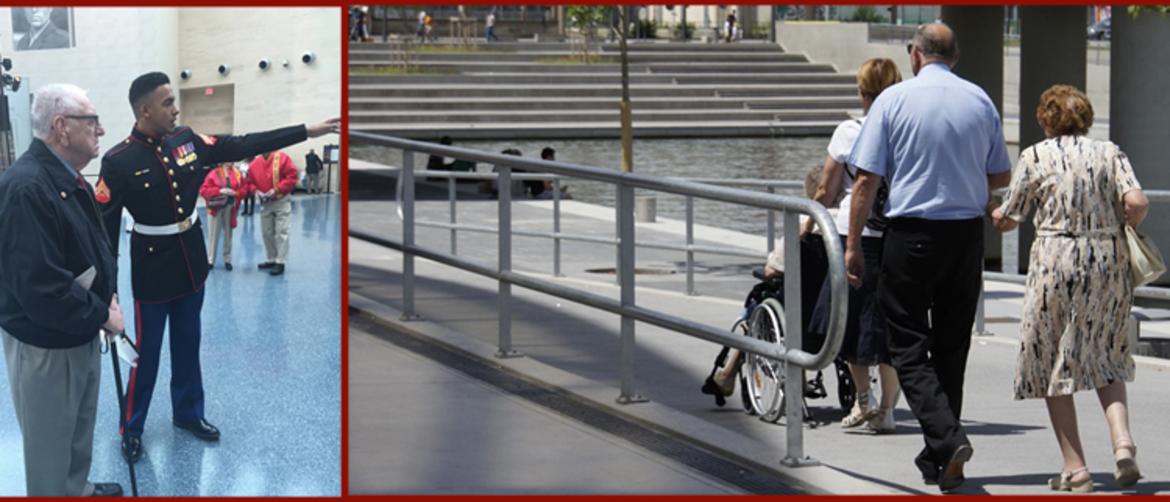 Traveling to and learning about different places with family and friends is one of the highlights of our lives. Unfortunately, some places may provide a limited or difficult experience for visitors with special needs. In Prince William & Manassas, some of our top attractions provide accessibility and outstanding special assistance to satisfy needs of all of our visitors. Read below for more information.
Outdoor Activities And Recreation
Leesylvania State Park's Potomac Trail is fully accessible and has a beautiful view of the water. Go for a short hike, then enjoy a picnic lunch at one of the tables by the water. In addition to the trail and picnic areas, the fishing pier, public restroom, boat launch, and visitor center are also wheelchair accessible.
Prince William Forest Park works continuously to upgrade facilities for improved access for all visitors. While all of the facilities are not handicapped accessible, park rangers are available to assist visitors with special needs. In addition to having accessible parking and visitor center facilities, the park is home to two wheelchair accessible campgrounds: Oak Ridge Campground and Turkey Ridge Run Campground. Prince William Forest Park and the National Park Service offers the Golden Access Passport to United States residents who have a permanent disability. This pass is a free lifetime entrance permit to all federal parks, monuments, and recreation areas. It also gives the pass holder a 50% reduction of camping fees.
Prince William Golf Course welcomes players with disabilities and will work with you to make your experience the best that it can be. Contact the General Manager or the Head Golf Professional for more information about accommodations for mobility-impaired golfers.  
History And Museums
Manassas National Battlefield Park has worked hard to make sure that every visitor can have a great experience. The visitor center is wheelchair accessible and a loaner wheelchair is available upon request. The map program and park film are captioned for the hearing impaired. Assisted listening devices and an audio description of the film for the visually impaired are available upon request. Visually impaired visitors may examine tactile exhibits of reproduction artillery shells and equipment displayed in the lobby of the visitor center as well as the original artillery pieces displayed on the field. In addition to the accessibility of the visitor center, Manassas National Battlefield Park also has accessible trails. Service animals are permitted throughout the park and audio CDs are available for sale for a self-guided driving tour of the Second Manassas battlefield.
Beginning with the entranceway, the National Museum of the Marine Corps is committed to providing an accessible experience for all of its visitors. Golf carts and wheel chairs are available via phone – just call and a representative will deliver the requested services. Wheel chairs and light-weight accessible stools are available at the front information desk. The museum also welcomes personal walkers, wheel chairs, scooters, and service animals. The museum has closed captioning available on all of the videos in the exhibits for hearing impaired visitors. Finally, the museum has a program, History In Your Hands (HIYH), for visitors who are blind or visually impaired. Through this program, visitors are given a tactile tour of the museum.
Please note: This is not intended to be a comprehensive list of accessible attractions in Prince William & Manassas. If you know of an attraction that you think should be in this list, then please call us at (703) 491-4045