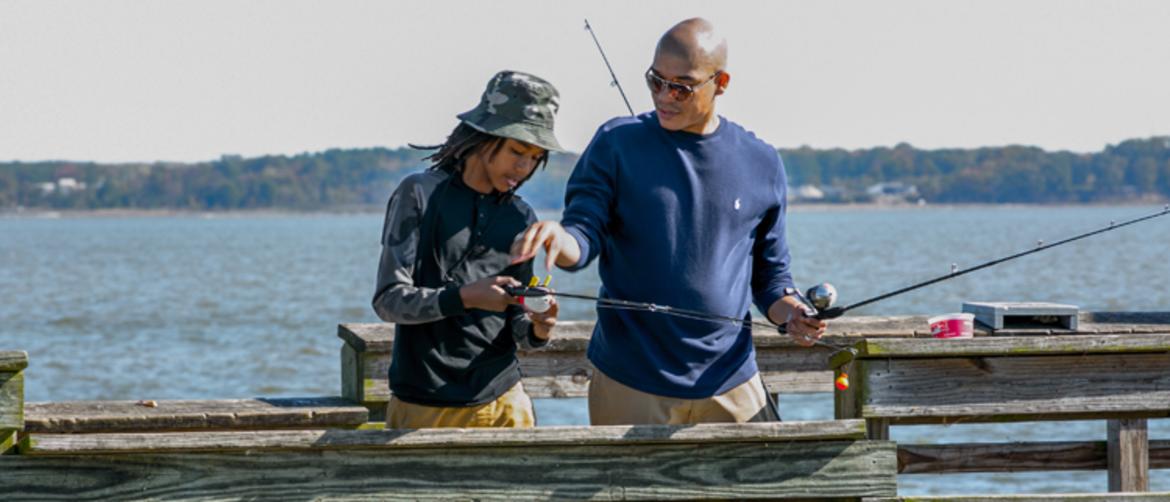 Anglers looking to combine their favorite hobby with a vacation can easily do so in Prince William & Manassas. With beautiful outdoor parks, cozy camp grounds, and numerous lakes, spend a day relaxing river-side on your next vacation here! We've picked out some of the best fishing-friendly holes to set up a bank-side spot, string your bait, and cast your line:
Locust Shade Park
Designated as one of Virginia's "Urban Fishing Sites", Locust Shade Park boasts an 8-acre pond that is stocked with fish by the Virginia Department of Game and Inland Fisheries. Set up your spot along the bank to stake your claim on your area- trees line the edge, creating a quiet and secluded atmosphere for a day of fishing. Those looking for a challenge can test out the waters by reeling for harvestable catfish, which are stocked every spring for the rest of the season. From November to April, the pond is stocked with trout and creel. There are also native populations of blue gill, largemouth bass, and crappie year round.
Prince William Forest Park
Eighteen miles of streams and waterways run through Prince William Forest Park, creating a serene and secluded environment to enjoy a fishing exurision! The freshwater supports some of Northern Virginia's popular fish, including bluegill, pumpkinseed, largemouth bass, and channel catfish. Fish along the banks of the South Fork and Quantico Creeks, or at one of the four small lakes.
The Pier at Leesylvania State Park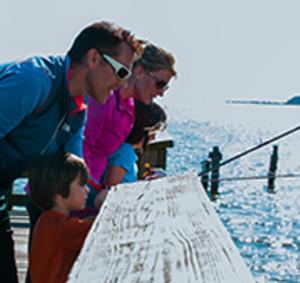 Stretching out into the Potomac, the Pier at Leesylvania is a picturesque spot to cast your line for the day. The tidal river gives the park a fresh water fishing area, so you're bound to see the largemouth bass that makes the Pier a popular fishing spot. Other sport fish include catfish, perch, and striped bass for a variety of catches. If you'd rather bring your boat, the park has a boat ramp and sail boat hoists for you to bring the experience onto the water. And if you're planning to visit from March to October, overnight fishing is available for those looking for a midnight catch!
Silver Lake Regional Park
Nestled into the pristine beauty of the park, Silver Lake is a 23-acre oasis that is fed by the Little Bull Run Stream. Enjoy a peaceful day of bank fishing at the water's edge for bluegill and largemouth bass, which are in season most of the year. The secluded lake is surrounded by four miles of trails and picnic areas, making it a perfect spot to have a picnic as well.
Pond Fishing at Greenville Family Farms
For a night of camping and fishing combined into one, stay the night Greenville Family Farms! With 43 wooded acres to pitch your tent, the farm is a peaceful retreat from hectic lives. Campers are free to roam the actual farm and discover behinds the scenes operations or visit the animals. The site also has four large ponds that are stocked with bluegill, bass, and channel cats, and has no fishing license requirement! Enjoy a night camping on the farm, a day fishing by the pond, and an adventure exploring the farm at Greenville!
Manassas National Battlefield Park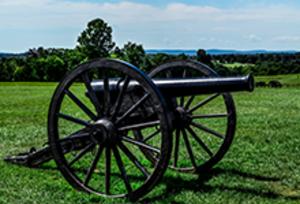 Among the cannons, ruins, and artifacts at the site of the First and Second Battles of Manassas/Bull Run are numerous catch-and-release ponds for you to fish in.  Many of them are conveniently located near parking, making it easy for you to fish at each spot. The most popular ponds are Cundiff, Rosefield, Headquarters, Bull Run, and Grubbs. The untouched nature of the park makes an oasis for fishing and wildlife and the ponds are stocked with a variety of species. You may find a catfish, beam, bluegill, or a largemouth bass at the end of your line!
The Occoquan Reservoir is located on the I-95 corridor and is readily available anglers visiting Prince William & Manassas in Northern Virginia. The three main fish available in the Occoquan Reservoir are the largemouth bass, bluegill, and crappie, although you may also have the opportunity to catch channel catfish, flathead catfish, and white perch.  No matter your skill level or the time of year, you will be sure to find something at the end of your line at the Occoquan Reservoir. 
Our secluded lakes, quiet parks, and intimate campgrounds ensure a relaxing fishing experience. Between exploring the many historic sites, walking through our quaint small towns, and dining on local cuisine, 'keep it reel' by spending an afternoon by the water in Prince William and Manassas.