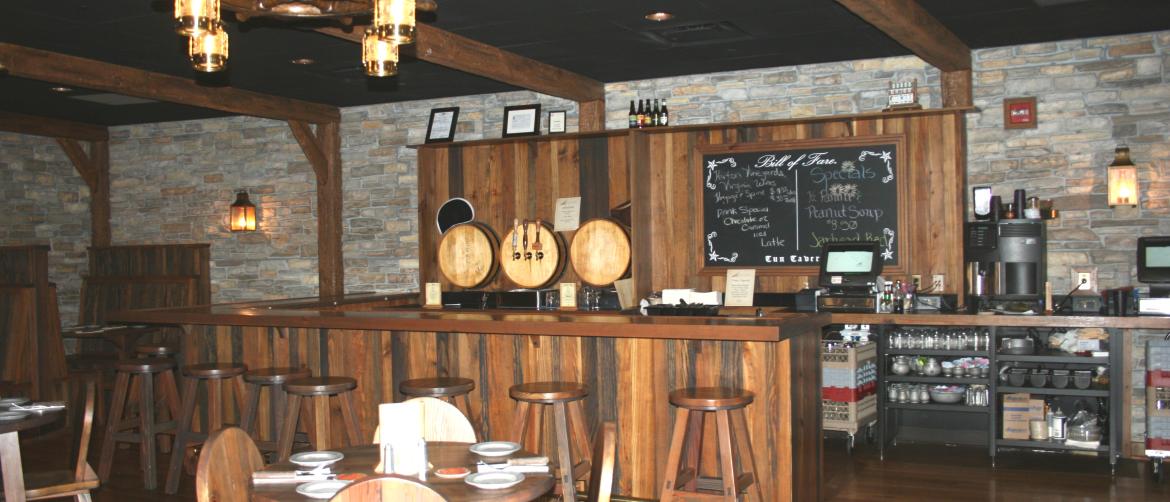 From the menu and the décor to the theme- these restaurants aren't just about great food and attentive service. They offer a complete dining experience, making you feel as if you've stepped back in time or into another country. While you're in Prince William & Manassas, be sure to visit these one of a kind spots for a memorable meal. We've picked out unique restaurants that are attractions in themselves:
Tun Tavern – Quantico, VA
This 30 seat restaurant located inside the National Museum of the Marine Corps has a colonial feel of a bustling tavern. According to legend, the Marine Corps was founded in the original Tun Tavern in Philadelphia the year before the Revolutionary War. With an ode to its Marine Corps history, the museum fashioned the restaurant to look like a 1700's era restaurant. Tun Tavern serves a classic American lunch, as well as full bar menu. With brick walls, wooden tables, and a vintage inspired bar, you'll feel as if you've stepped back in time. Images of Marine Corps history adorn the walls, depicting a timeline from its founding to present day missions.

Chuckwagon Restaurant – Nokesville, VA
For a 'Wild West' inspired meal, the Chuckwagon Restaurant brings the 1800's to you! The old fashioned restaurant serves breakfast, lunch, and dinner with southern comfort foods such steak, ribs, and burgers. Take a picture with the life-size covered wagon reminiscent of the stories of the old west and american frontier. Inside, you'll find walls covered in wagon wheels, cowboy era art, and wild-west figurines. Take a trip back at the Chuckwagon Restaurant!
The Philadelphia Tavern – Manassas, VA
 "Where Philly Meets the South!" boasts The Philadelphia Tavern, a quaint restaurant in Historic Downtown Manassas. The menu has a combination of Philadelphia's most famous dishes (think cheesesteaks) as well as Southern comfort food to create a cuisine all its own. Drinks include some of Philadelphia's best microbrews, which you can sip at the antique 1800's bar that was physically shipped from the City of Brotherly Love.
Grafton Street – Gainesville, VA
Irish owned and operated, Grafton Street is a restaurant and pub that brings back the charm of Ireland to Prince William & Manassas. Diners can enjoy hearty meals in the dining room, and more casual fare such as Fish & Chips in the pub.  They have 24 beers on tap, as well as modern cocktails and drinks. The bar is hand crafted, made to look like traditional pubs in Ireland. The walls are decorated with artifacts that pay homage to Irish heritage.
Cock & Bowl – Occoquan, VA
Enjoy European fare at this quaint downtown bistro! Cock & Bowl has the largest selection of Belgian and Belgium style beer in Prince William & Manassas. Meals are made from only the freshest ingredients (Canadian blue mussels are shipped in daily!) other provisions are sourced locally from nearby farms and farmer's markets. Notable menu items include homemade soups, custom salads, mussel bowls, and make your own waffles. Enjoy the Belgium inspired experience inside or on their cozy brick patio, with a view of historic downtown.
If you're tired of eating at the same old chain restaurants and browsing predictable menus, try out one of these unique restaurants in Prince William & Manassas. Whether its history inspired décor, a time traveling adventure, or an international menu, these spots will make for a memorable meal!