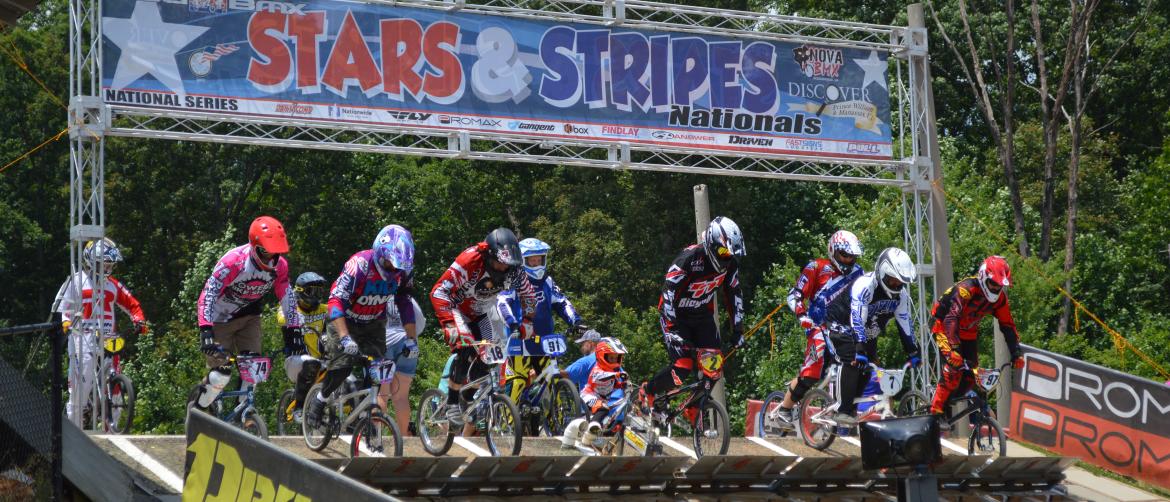 Vacations are all about discovering new places, trying new things, and taking part in new experiences. If you're a sports fan, then Prince William & Manassas is the perfect place to sample a new sport! We have unique facilities that are family friendly and offer a great way for everyone to try something new. From racing around hills on a BMX bike to slicing the rink at the ice arena, here are unique sports to try on your trip here:
If you've ever been awed by extreme athletes effortlessly flying through the air on their bikes, you'll want to try it out for yourself at NOVA BMX. Known as the only BMX track in Prince William County, this dirt and asphalt adventure is waiting for you! There are no age restrictions, and the only prerequisites is being able to ride a two wheeler, so it's an exciting sport the whole family can enjoy together. They offer a one day pass that's a perfect addition to your trip!

Test your strength and agility at the Vertical Rock Climbing Center in Manassas.  This indoor facility is designed for beginning and seasoned climbers alike. The walls have a variety of angles and hundreds of holds to make you're climbing experience a challenge. Their routes range from 5.5 to 5.3, so anyone can quickly pick up the sport in a safe environment. If you've got the hang of it, race against other climbers on their staggering 50-foot wall!
Visit Penguin Paddling to try out Stand-up Paddle Boarding, the hottest new watersport. (You propel yourself forward with an oar while standing on a surfboard-like paddleboard). Rent one yourself or take a guided tour to places you wouldn't normally be able to access along Occoquan River and the Neabsco Creek. As you venture down some of Virginia's greatest waterways, view eagles, ducks, ospreys, and beavers. Paddle boarding combines the thrill of a watersport with the adventure of a tour, and is a great way to check off two items on your itinerary!
This isn't the same way you played it in gym class! Experience Trampoline Dodgeball at Rebounderz, the largest indoor trampoline facility in the area. Wall to wall trampolines fill up the entire room, with a designated field for dodgeball where you can '"dodge, duck, dip, dive, and dodge" while bouncing into the air. It brings a whole new level of competition to the game, and is especially great for families.
To experience a foreign sport right here in Prince William & Manassas, try the Scottish game of Curling at the Prince William Ice Center. Two teams of four players compete to slide the most 'rocks' (similar to large hockey pucks) towards the center of their target at the other ends.  Easy to learn, curling is great for players of all ages and skill levels, and is even wheelchair accessible.

Golfing isn't just for adults anymore! Bring your family over for a game of Footgolf at General's Ridge Golf Course and Lake Ridge Golf Course, which combines the footwork of soccer with the rules of golf. Start at the tee with a soccer ball and kick your way across the course to the 21 inch hole in as few shots as possible. You'll enjoy the competitive focus of golf, just without the clubs! Footgolf is a sport for the whole family, from little kickers to heavy hitters and is a must do while you're visiting Prince William & Manassas.
Everyone in your family can test their aim and finesse at Elite Shooting in Manassas, VA. This Northern Virginia shooting range has four separate ranges with 42 total lanes. Elite Shooting offers training classes for specific skills and permits. If you are new to shooting, there are several training courses for a great introduction to shooting. After you and your family finish your introductory course, you can refuel at the café before a "friendly" game of shooting battle ship.  
Whether you're looking for a family friendly experience, a quick workout while on vacation, or a new game to get into, these unique sports in Prince William & Manassas offers activities for all ages and skill levels. Make memories and play games that you'll want to bring home with you.