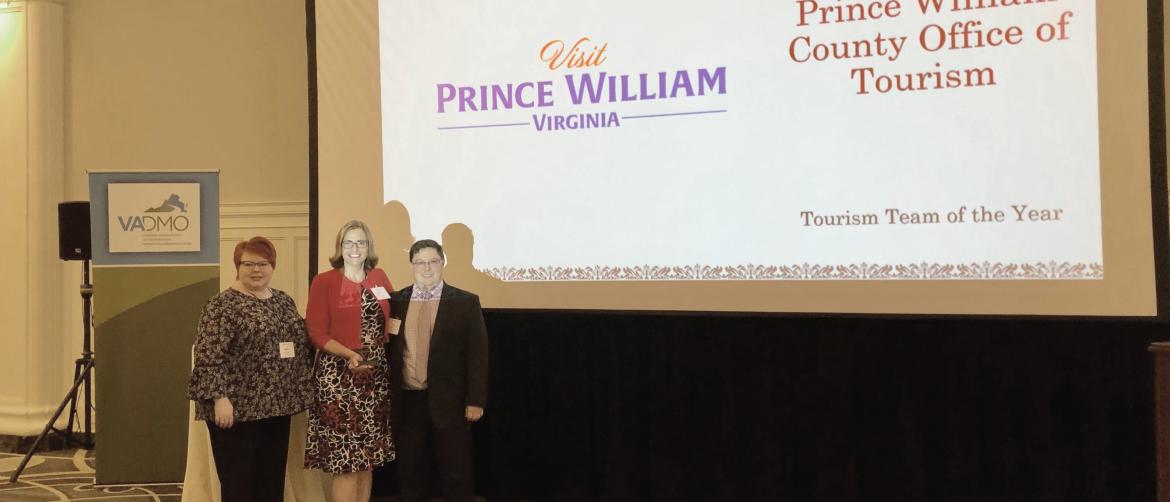 PRINCE WILLIAM, VIRGINIA (May 2, 2019) – The Virginia Association of Destination Marketing Organizations (VADMO) awarded a 'Tourism Team of the Year' Virgo Award to the Prince William County Office of Tourism at their annual Spring symposium held in Lynchburg, VA earlier this week.
VADMO's Annual Virgo awards pay tribute to individuals, groups, businesses and destination marketing organizations that significantly contribute to the Commonwealth of Virginia's economy through tourism promotion and development.
The Prince William County (PWC) Office of Tourism is made up of a dedicated and talented team of full and part-time tourism, communications, sales and marketing professionals. The team consists of ten employees who, in 2018, embraced a fundamental change to its organizational structure merging county tourism functions into the county's Department of Parks, Recreation and Tourism.  All ten team members thrived through the transition with the newfound synergies and opportunities available through County government.
PWC Office of Tourism in 2018 Top achievements include:
Awarded and maintained Destinations International Industry Accreditation (DMAP)
Established of a new Office of Tourism industry advisory board comprised of county tourism and hospitality professionals
Launched a new state-of-the-art, content-rich, responsive website…VisitPWC.com
Completed tourism brand refresh including a new wordmark.
Secured Tough Mudder Virginia as part of the organization's Sports Tourism Initiative – an event that will draw over 8,000 visitors and spectators in June 2019.
Hosted (2) two Fox 5 DC Live "Friday Zip Trips" with special segments featuring county elected officials and Virginia Tourism Corporation (VTC)'s CEO/President, Rita McClenny
Secured $10,000 VTC Crush Friday Grant and utilized funds for promotions at key Prince William County attractions
Executed multiple promotions throughout Summer 2018 to inspire travel to Prince William positively impacting the 9th largest tourism economy in Virginia
Hosted a multitude of travel writers, bloggers, and tour operators enhancing the county's image and brand
About Virginia Association of Destination Marketing Organizations
The Virginia Association of Destination Marketing Organizations is a not-for profit 501(c)(6) membership organization made up of 105 destination marketing organizations and the companies that support them. Since it started in 1978, the organization has been promoting professionalism within the Virginia tourism industry and has worked on behalf of its members to make sure that tourism and travel continue to be strong economic drivers in the Commonwealth's economy. For more information about VADMO please visit www.vadmo.org/ or contact the organization at (540) 904-4710.
About Prince William County Office of Tourism
The Prince William County Office of Tourism, a division of Prince William County's Parks, Recreation & Tourism Department, inspires travelers to the County by promoting, developing and enhancing experiences; thereby contributing to a robust economy and creating opportunities for residents.  Prince William County is one of the top ten travel destinations in the Commonwealth of Virginia according to a 2017 Virginia Tourism Corporation study (based on total travel expenditures; ranked 9th). The County is also home to 38 square miles of public green space and parks for recreation enthusiasts – the largest in the Washington DC metro area.
For more news information on Prince William, Virginia,
please visit our website www.VisitPWC.com
###