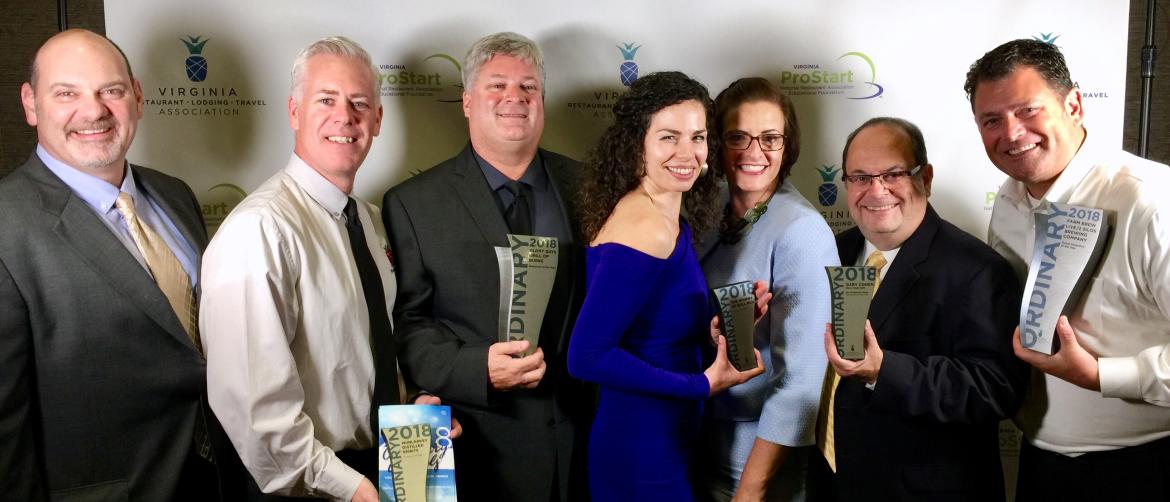 Pictured are representatives from MurLarkey Distilled Spirits, Glory Days Grill, The Winery at Bull Run, and 2Silos Brewing Company / Farm Brew Live
with the Prince William County Tourism Director, Ann Marie Maher
PRINCE WILLIAM COUNTY
TOURISM PARTNERS RECEIVE STATEWIDE INDUSTRY AWARDS
RICHMOND, Virginia – October 3, 2018 – The Virginia Restaurant, Lodging, & Travel Association (VRLTA) hosted its third-annual VRLTA Ordinary Awards in Richmond, Virginia last night. Award entries were submitted by the travel and hospitality industry throughout Virginia and 32 finalists were announced in front of a sold out audience of more than 175 attendees.
At the event, several Prince William County tourism attraction and restaurant partners received numerous accolades and awards including:
Distillery of the Year – MurLarkey Distilled Spirits
Winery of the Year – The Winery at Bull Run
Restauranteur of the Year – Gary Cohen, Glory Days Grill
Attraction of the Year –2 Silos Brewing Co. / Farm Brew Live
Finalist – Hotelier of the Year – Peter Madigan, Uniwest Hospitality – Owners of the Homewood Suites by Hilton and Hilton Garden Inn in Woodbridge
About Prince William County Office of Tourism
The Prince William County Office of Tourism, a division of Prince William County's Parks, Recreation, & Tourism Department, is responsible for executing tourism marketing and promotion initiatives supporting Prince William County's strategic outcomes. Prince William County, VA is one of the top ten travel destinations (based on total travel expenditures) in the Commonwealth of Virginia. The County is also home to over 36 square miles of dedicated open space for recreation enthusiasts.
For more news information on Visit Prince William, Virginia please visit our website www.VisitPWC.com
About VRLTA and The Ordinary Awards
The Virginia Restaurant, Lodging, & Travel Association (VRLTA) has represented the Commonwealth's restaurants, hotels and travel attractions for over 80 years. The 2018 Ordinary Awards features 16 individual and organizational awards from across four primary categories. Each award will be given to an honoree who demonstrates exemplary passion for the hospitality and travel industry.
For more news information on VRLTA, please visit their website www.VRLTA.org
###