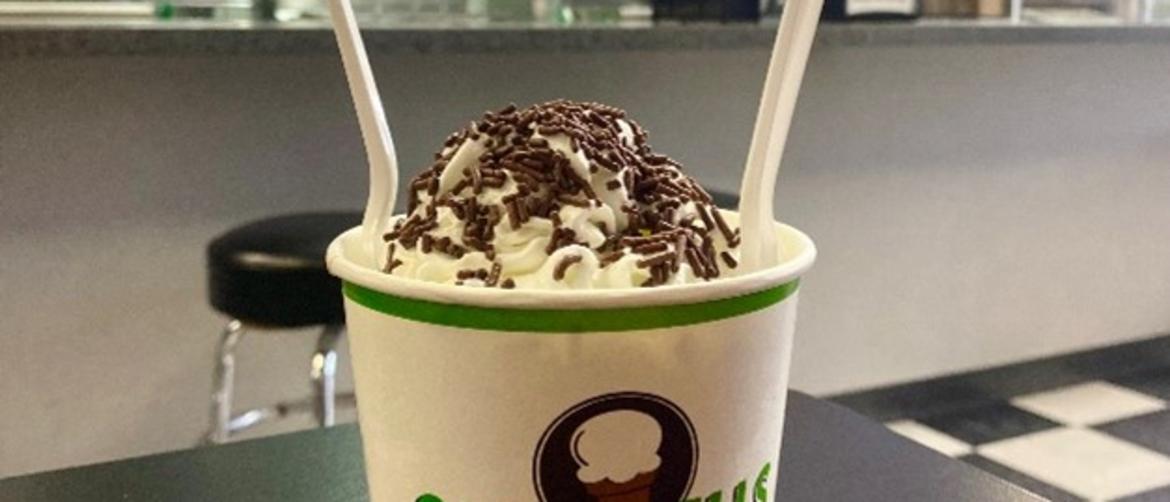 What better way to cool off during the hot summer months than enjoying a delicious ice cream treat? Prince William County has many local favorites for you to try this summer, with plenty of different flavors to test out. We visited seven popular locations in the area and have curated the perfect list of ice cream shops you can't miss this summer.
Campbells Frozen Custard - Lake Ridge
Campbells offers two constantly changing daily flavors as well as a classic chocolate and vanilla custard for visitors to enjoy any day of the week. Build your own "Campbell Scramble" by choosing one of their many toppings to blend with custard or choose from a specialty banana split or sundae. We tried the popular "Dirty Business" sundae and were not disappointed. The chocolate custard paired perfectly with the peanut butter cups, and the whipped cream topped it off. This family-owned store also sells other chocolate treats, cookies, and Italian ice. We recommend playing one of the family-friendly games from the game shelf while you eat your delicious ice cream treat. What a great way to spend the afternoon.
Frostie Moose Ice Cream- Woodbridge
Frostie Moose is a great choice for soft-serve ice cream cones and sundaes. With plenty of flavors to choose from and a unique flavor of the day, there's something for everyone to try. Elevate your ice cream by adding one of the many toppings and sauces to your dessert, or choose the banana split or strawberry shortcake specialty creations. We tried a cookie dough and Reese's Cup sundae with coffee ice cream as well as a peanut butter sundae with chocolate ice cream. The cookie dough bites were perfectly chewy and a great pairing with coffee ice cream, but I think the peanut butter sundae was my personal favorite. The peanut butter sauce melted in my mouth and was a great addition to some of the most chocolatey ice cream I've ever had. This spot is definitely one to try.
Jimmy T's Soft Serve- Dumfries
Jimmy T's is a long-time local favorite for soft serve in the Dumfries area. Though the store itself offers only outside ordering and seating, there is no limit to their menu. With nearly 30 flavored "Jimmy Cones" to try as well as seven specialty sundaes, milkshakes, and "Jimmy Mombo's," there is no shortage of treats to try. If ice cream isn't your thing, try a float or one of the many flavors of shaved ice instead. We tried the classic banana split with chocolate and vanilla ice cream, chocolate sauce, strawberry sauce, and of course, a cherry on top. This cool dessert tasted great while sitting under the sun and had a lot of flavor for soft-serve ice cream. Jimmy T's is a great family-friendly spot with plenty of space for kids or pets to run around in the grass behind the store. This shop is not one to miss.
Swirlies Soft-Serve Ice Cream- Manassas & Haymarket
Swirlies has busy locations in Manassas as well as in Haymarket and is another great spot for classic soft-serve ice cream. This is an all-outdoor seating shop with picnic tables, umbrellas for shade, and a large parking lot for busier days. They sell cones, sundaes, razzles, shaved ice, and milkshakes. We decided to try the cookie crisp razzle, which was one of the flavors of the day. Similar to a blizzard from Dairy Queen, this blended dessert had just the right amount of Cookie Crisp cereal mixed in with the vanilla soft-serve ice cream. In previous years, Swirlies has hosted events such as classic car shows, movie nights, and other family-oriented events. Check out their website to learn more information on events coming up in the future.
Nathan's Dairy Bar- Manassas
Nathan's has a similar outdoor storefront to Jimmy T's and Swirlies with plenty of picnic tables to sit at, but they sell hand-scooped and soft-serve ice cream. They have the most diverse ice cream menu of any of the shops we went to, with a rotating selection of soft-serve and hand-scooped ice cream, specialty sundaes, ice cream flights, milkshakes, Boston shakes, floats, and shaved ice. We tried the dirt and worms sundae. This childhood favorite tasted great and had plenty of Oreo cookie crumbles and gummy worms throughout the entire sundae. Nathan's is definitely a popular spot on a warm summer evening in Manassas.
Cookies and Cream- Haymarket/Gainesville
In case you couldn't guess from the title of the shop, Cookies and Cream sells both homemade cookies and delicious hand-scooped ice cream. Choose one or the other, or opt to put them together in an ice cream sandwich. Milkshakes, sundaes, floats, Italian ice, and even a selection of mocktails are other popular choices. We couldn't pass up the opportunity to try a cookies and cream ice cream sundae with chocolate sauce, a generous amount of whipped cream, sprinkles, and a cherry on top. The hand-scooped ice cream was a flavorful classic, and we definitely recommend it. This location also had a sizeable indoor seating area as well as tables outside. Cookies and Cream has won best ice cream in Haymarket and Gainesville for the past five years and is not a place to skip.
Jitterbug's Ice Cream Cafe- Manassas
Located just down the street from Nathan's Dairy Bar, Jitterbugs is another great spot to try in downtown Manassas. This old-fashioned shop serves over 15 flavors of hand-scooped ice cream and is the perfect place to cool down from the summer heat. Play a song on the jukebox or sit in the old car-themed booth to further enhance your experience at Jitterbugs. We tried a sugar cone with chocolate marshmallow ice cream and a cake cone with cookie dough ice cream. We felt that the hand-scooped ice cream had lots of flavor, and we enjoyed our cones. This shop was our personal favorite ice cream spot, but you'll have to visit for yourself to decide which shop is the one for you.
Be sure to check out any of these local favorites on Sunday, July 16th to celebrate National Ice Cream Day!