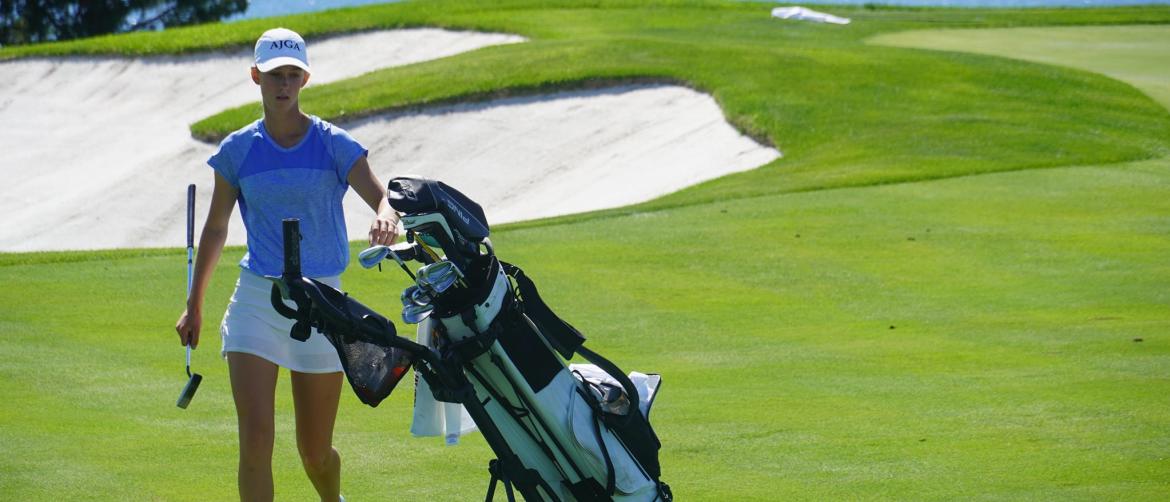 Get ready to mark your calendars because an extraordinary sporting spectacle is heading our way! In 2024, Prince William County will be the proud host of the highly anticipated Solheim Cup, taking place at the prestigious Robert Trent Jones Golf Club in Gainesville, Virginia. This thrilling biennial showdown brings together the top 12 European players from the Ladies European Tour (LET) and the finest 12 U.S. players from the Ladies Professional Golf Association (LPGA) Tour. 
With this monumental event just a year away, we're here to ignite your excitement and help you plan the trip of a lifetime. A year can pass in the blink of an eye, and you won't want to miss this incredible opportunity. 
Save the Date for the Solheim Cup 
Mark your calendars for Tuesday, September 10th, 2024, to Sunday, September 15th, 2024, because these dates will be etched in sporting history. Here's a sneak peek at what's in store: 
Tuesday, September 10th – U.S. Team & European Team Practice Session 
Wednesday, September 11th – U.S. Team & European Team Practice Session 
Thursday, September 12th – U.S. Team & European Team Practice Session, followed by the Grand Opening Ceremony 
Friday, September 13th – A thrilling morning of Foursome Matches, and afternoon Fourball Matches 
Saturday, September 14th – Another action-packed day with morning Foursome Matches and afternoon Fourball Matches 
Sunday, September 15th – The grand finale featuring twelve morning Singles Matches, followed by the unforgettable Closing Ceremony 
Don't Wait! Start Planning Your Solheim Cup Experience 
To make the most of this incredible event, it's never too early to start planning. If you're traveling from afar, consider booking your domestic flight one to three months ahead and international flights two to eight months in advance. Keep an eye out for flight deals that may arise as the date approaches. 
When it comes to accommodations in Prince William County, luxurious hotels and resorts often accept bookings up to a year in advance, while more budget-friendly options usually allow reservations up to six months ahead. To snag the best rates, we recommend starting your search around the six-month mark from your check-in date.
Navigating the Airports 
Prince William County is conveniently located near two major airports. For the quickest route to your destination upon arrival, Dulles International Airport (IAD) in Chantilly, Virginia, is your top choice, situated only 14 miles from Gainesville, Virginia.  
If you're keen to explore both Prince William County and the wonders of Washington D.C., consider landing at Reagan National Airport (DCA) in Arlington, Virginia, just 4.9 miles from the heart of D.C. Although we recommend IAD for its proximity to Gainesville, DCA is an excellent option for those eager to experience Northern Virginia and D.C. during their trip. The drive to Gainesville from DCA is approximately 37.7 miles. 
Where to Stay in Style 
Prince William County boasts a diverse range of accommodation options, catering to every traveler's preference. Whether you seek the charm of a historic inn, the affordability of a hotel, the comfort of an extended stay property, the adventure of an RV site, or the serenity of a campground, you'll find it all here. 
If being at the heart of the action is your goal, consider staying in Gainesville, Haymarket, or Manassas. These cities offer over twenty lodging choices, including prime locations such as: 
More Than Just Golf 
While you're here for the Solheim Cup, why not explore the rich history of Prince William County? From the hallowed grounds of the Manassas National Battlefield to the captivating National Marine Corps Museum, there's a wealth of historical sites waiting to be discovered. 
For those with a taste for something different, Prince William County proudly presents the Steins, Vines, and Moonshine Trail. This enticing trail leads you to breweries, wineries, and distilleries throughout the county, each offering a warm welcome, live entertainment, and innovative libations. With over 20 options to choose from, there's something for everyone, and many of these venues host live music almost every night. Plus, they're family-friendly, so even your furry companions can join in on the fun. 
Every week in Prince William County is packed with exciting events, a vibrant dining scene, and indoor entertainment options to keep you thoroughly entertained throughout your visit. Prince William County is your playground, and we can't wait for you to experience all the thrills and delights it has to offer.  
Start planning your Solheim Cup adventure today!