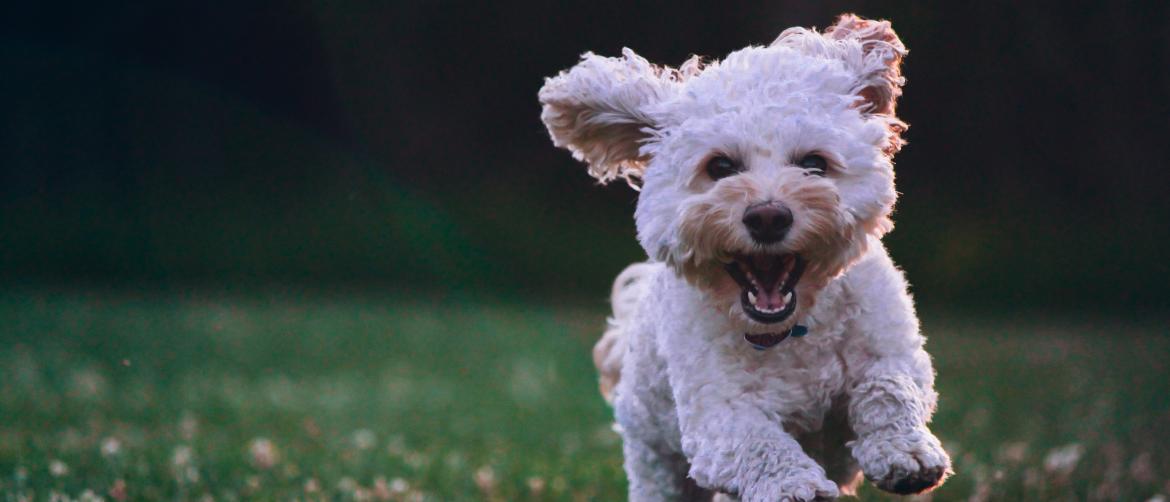 Photo by Joe Caione on Unsplash 
If you're planning on visiting Prince William, Virginia, the good news is that you don't have to leave your best furry friend behind. Prince William is a dog-friendly place.  Whether you're bringing your dog to Prince William for business, a family reunion or adventure - here's what you need to know to make the experience unforgettable for both you and your pup. 
Preparing Your Dog 
Here are some tips for preparing your dog to be on their best behavior while in the area. 
Training 
Considering verbal commands form part of the leash laws, it's an excellent idea to teach your dog a few basic commands. Things like "sit", "stay" and "heel" are the first ones you should focus on. If you can, work on these commands with your dog for at least a few weeks before you come to Prince William. That being said, we still recommend you keep a leash on your dog while using your verbal commands at the same time to avoid any potential issues. 
Calming 
If you know your dog is anxious or high-strung, it could be worth asking your vet about calming measures before traveling with your dog. There are multiple options, including: 
Calming pheromone collars 

CBD for dogs 
Ask your vet for their recommendation so you know exactly how much to give your dog and when to give it to them.
What To Bring With You 
In order to make your journey as comfortable and easy as possible for both you and your dog, consider bringing the following things along on your trip. 
Dog Crate 
We have plenty of dog-friendly hotels in the area. But if you're planning on leaving your pooch in your hotel room when you leave for a meeting or outing, a dog crate is essential to keep your pup safe and comforted. Fill it with a comfortable blanket and something that smells like you so that your dog doesn't get anxious while you're away. 
Dog Food 
If your dog is a picky eater, it may be a good idea to bring their usual dog food along with you. That way, your dog will be happy and comfortable without their stomach needing to adjust to new food. 
Vet Details 
It's a good idea to make a list of vets that are near where you'll be staying. Keeping their phone numbers and addresses handy can put your mind at ease that even if there is an emergency, your pup will be close to help.
Dog-Friendly Adventures 
Once you've arrived in Prince William, you'll need some dog-friendly adventures to share with your dog! Here are some spots to share a date with your furry friend. 
Food 
There's something for every taste. 
If you want to treat your pet specifically, place an order at Fetch Pet Bakery! Here your pooch can choose from more than 20 gourmet treats that are a once-in-a-lifetime taste experience. 
Walk 
Walks are all dogs really need to feel energized and happy. Here are some of the best places to take your pup for a romp. 
K-9 Gunner Dog Park: This 46,000 square-foot park is located in Woodbridge. 

Lake Ridge Park: Located directly on the Occoquan Reservoir, in the Lake Ridge community, this 74-acre park maintains unencumbered public access to the Occoquan Water Trail with breathtaking views. Take your dog for a hike! 

Locust Shade Park: This 400 acres park located next to the Marine Corps Heritage Museum is perfect for the whole family. 
Cleaning Up After Your Dog 
If you're going to be out and about with your dog, bathroom breaks are inevitable. Make sure you know the laws and you're prepared before stepping out with your pooch. 
Clean-Up Laws 
Virginia state laws say that it's unlawful for a dog owner to not remove their dog's excrement. That means you need to be prepared to pick up your dog's poop every time you take them out for an adventure. This isn't just for aesthetics. Dog feces can contain harmful bacteria that can get out of hand if left out in the open. If you're caught leaving your dog's poop on other people's land, you could find yourself slapped with a Class 4 misdemeanor. 
Clean-Up Kit 
We advise creating a clean-up kit that you can carry with you easily when you're out with your fluff. 
A pooper scooper 

Bin bags 

Wet wipes 

Rubber gloves 
Local Dog Laws 
Each local jurisdiction in Virginia has its own specific laws regarding dog leashes and what happens in the case of a dog bite. Understanding these can help you avoid problems from the start. 
Leash Laws 
Most jurisdictions, including Prince William County, require that your dog is under your control while out of the house. We advise you to please keep your dog on a leash at all times while in Prince William Couny during your visit. 
Dog Bite Laws 
Virginia has a "one-bite" rule. This means that owners are not likely to be held liable for dog bites unless their dog has a previous bite on record. If your dog has bitten someone before and it happens again, then you can be held liable. The idea is that if you know your dog is likely to bite in certain situations, but you don't take extra caution to prevent them, you're being negligent. It's best to simply take steps to prevent your dog from biting anybody at any time. 
Conclusion 
Just a bit of planning and preparation before bringing your dog to Prince William can make the stay a whole lot more pleasant—for you and your dog! Even if you're here on business and bringing your furry friend along for company, there's plenty of opportunity for adventure. Take some time to get out and explore the city with your trusty canine companion. We promise you won't regret it!