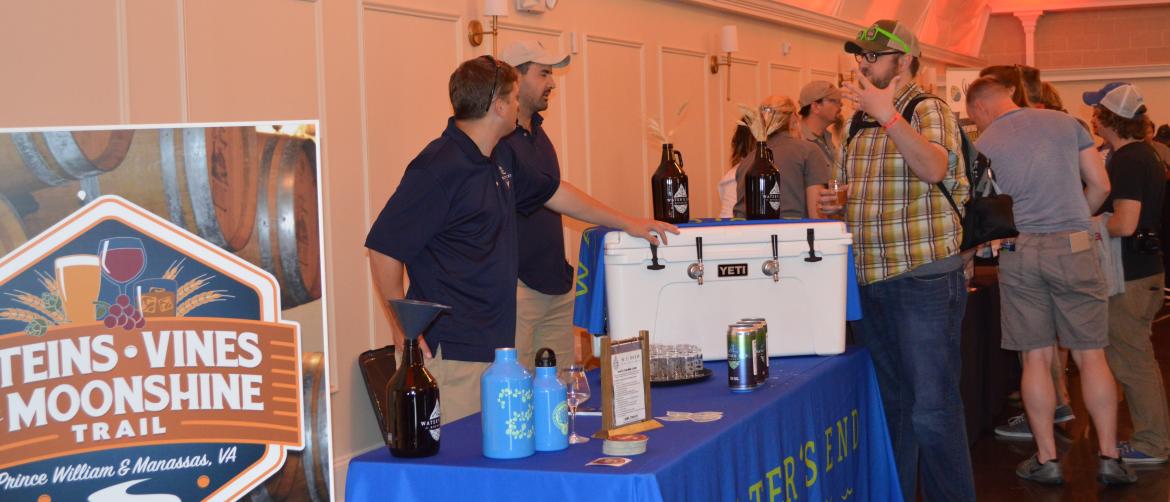 BEER BLOGGERS TAKE A SIP OF HISTORY IN PRINCE WILLIAM, VIRGINIA
Prince William & Manassas, Virginia is no doubt one of the top craft brewery, winery, & distillery destinations in Northern Virginia. 
The 2018 Beer Bloggers and Writers Conference was held in nearby Loudoun County. The conference that was founded in 2010 had previously been hosted in cities known as craft beer destinations such as Milwaukee, Asheville, and Portland - - - but Northern Virginia? The rolling landscape of suburbia - REALLY?  Could our region compete against urban and popular cities such as Portland and Milwaukee as a Craft Beer destination?
If you incorporate the 20 tasting rooms, wineries, distilleries, and breweries in Prince William & Manassas, plus add the collection in nearby Loudoun, Fauquier, Stafford, and Fairfax Counties - craft beer, wine, and spirts lovers would be able to visit 100 stops if they stayed in Prince William County (I don't think we have enough hangover cures for that many stops)! As visitors today crave unique experiences to show off their lives on Instagram, Facebook, and Snapchat -  our farm breweries, majestic wineries, delicious distilleries, and friendly characters - set Northern Virginia apart and create another major reason why visitors should stay overnight or visit Prince William, Virginia.
NOW BACK TO THE EVENT...
As conference officials selected Loudoun County to play host to their conference, the Prince William County Office of Tourism reached out to the Beer Bloggers Conference to coordinate a stellar kick-off event to showcase our local handcrafted products. Unlike other beer trails across the country, the Prince William & Manassas Steins, Vines, & Moonshine Trail differentiates itself by showcasing craft beer, wine, and spirits. The kick-off event was hosted on Thursday, August 9th inside the gorgeous Great Hall event center at Farm Brew Live and our many trail site partners wanted to be a part of it to showcase their products to this highly influential market.
Writers traveled across the country and globe to attend this event and made several comments about what a great event it was. Attendees were welcomed by Tourism Director Ann Marie, Beer Blogger leader Ryan, Jackie from Visit Loudoun, and Meredith of the Villagio Group before enjoying the local food and drink of Prince William.
Thank you to Effingham Manor Winery, Water's End Brewery, Murlarkey Distillery, Sinistral Brewing Company, 2 Silos Brewing Company, The Farm Brewery at Broad Run, and KO Distilling for being a part of this incredible event and to the staff and ownership of Farm Brew Live - the appetizers, hummus, BBQ, and Mac & Cheese were a huge hit that the attendees couldn't get enough of. The writers raved about the opportunity to personally meet with the brewers, wine and spirits makers - a high point of the event.
Tours of the Farm Brew Live campus commenced at 7 pm, and bloggers were also able to catch a majestic Virginia summer sunset before departing on buses back to Loudoun at 9 pm. We giggled a bit when the bloggers stated that the campus was in "the middle of nowhere" - but we were sure to inform them of the tens of thousands of homes, businesses, and attractions that were nearby the campus.
In the coming weeks, the Office of Tourism staff will be following up with conference attendees to invite key influencers and writers back to see more of beautiful Prince William County.
A BIG THANK YOU to the Office of Tourism staff, and to our friends at Visit Loudoun and at the Beer Bloggers & Writers Conference for putting together a successful event & conference that showcased that indeed - VIRGINIA IS FOR CRAFT BEER LOVERS!
The conference heads to Great Falls, Montana in 2019 for those looking for a career change!
- Dan Cook - Tourism Marketing Manager