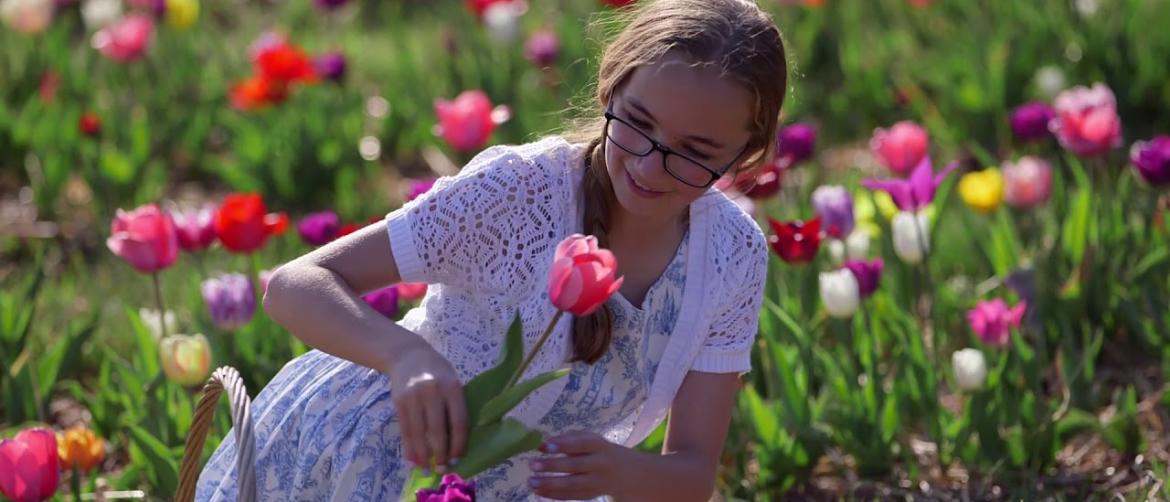 Prince William, Virginia is the perfect place to enjoy the Spring weather. From bluebell festivals and world-class music to farm experiences, and fantastic local food and craft beverages, here are just a few reasons to start planning your spring getaway today.
Below is a listing of upcoming events, festivals, and activities in Prince William County this month. Events include concerts, festivals, and family-friendly activities for the community.
Please contact each venue for event confirmation.
Flower Festivals
4/10 – Bluebell Festival at Merrimac Farm  (Nokesville) Celebrate nature with a visit to one of the largest patches of Virginia Bluebells in the area.  
TBD – Burnside Farms Spring Tulip Festival (Nokesville) Keep an eye on their Facebook Page to see when they announce the official start of their unbelievable Festival of Spring this year. Over one million tulips, children's activities, wagon rides, and more.
Spring & Easter Events: (Easter is on Sunday, April 17th)
4/1 – 4/16 Photos with the Bunny at Manassas Mall (Manassas) Hop into the egg-citing Spring season with photos with the Easter Bunny on weekends starting March 26th through April 16th!
4/2 – 4/17 Spring Carnival at the Prince William County Fairgrounds (Manassas) With over 20 rides for thrill-seekers of all ages! Start your spring with an outdoor adventure. Bring the whole family and ride some rides, play some games, and enjoy that classic carnival food!
4/2 Scrambled Egg Hunt at Brentsville Courthouse (Bristow) Peter Rabbit created trouble again at Brentsville by taking all the candy and toys in their eggs and replacing them with puzzle pieces. He won't give back the goods unless we solve the puzzle!
4/2 Breakfast with the Bunny at Piney Branch Elementary School (Bristow) The Easter Bunny is in town! Join him for pancakes, games, and more at Piney Branch E.S.
4/6 – 4/7 Easter/Spring photo event with Mr. Sprinkles the Pony at Hope & Serenity Farm (Nokesville) The Hope & Serenity Farm Sanctuary is hosting Easter and Welcome Spring family photographs with their resident pony, Mr. Sprinkles. The photo session fee includes a guided tour of the animal sanctuary, a children's egg hunt as well as photographs with resident VIP, Mr. Sprinkles.
4/9 Rippon Lodge Easter Egg Trail (Woodbridge) The Easter Bunny has created a fun activity trail at Rippon Lodge. Look for hidden objects, do physical tasks, tell a joke, and more as you walk to receive your eggs. Family members may join in the fun.
4/10 Easter Egg Hunt at The Farm Brewery at Broad Run (Haymarket) Come join the team at the Farm Brewery at Broad Run for their annual Easter egg hunt. Plus, meet Hops the Bunny.
4/12 – 4/17 Occoquan Peep Week (Occoquan) Stroll through historic Occoquan and vote for your favorite PEEPS® dioramas, made by and displayed at Occoquan businesses. Cast your vote and enter to win a PEEPS® basket of goodies. Enjoy kids' activities, shopping late, and more.
4/15 Easter Party at BeeHive Indoor Playground (Woodbridge) Come and join the team at Beehive Park for a night filled with Easter fun, magic, and memories. Reserve your spot now!! *Limited spots available*
4/16 Dumfries Easter Egg Hunt (Triangle) Enjoy this FREE community Easter egg hunt hosted by Pillar Church. There will be pictures with the Easter Bunny, face painting, bounce house, spoon & sack races, and popcorn.
4/17 Easter Brunch at Bristow Manor (Bristow) The Easter Bunny is hopping over to Bristow Manor! Join their team for a special Easter brunch at the manor.
4/17 Goat & Bunny Snuggles & Hand Feeding at the Little Goat Farm at the Lake (Nokesville) Enjoy an additional hour feeding and interacting with farm animals and see and be up close and touchable with their snowy white Alpaca Marshmallow, no drama Llama and Cupcake, the mini-Donkey.
4/23 Spring Music Festival at Mum Mum Restaurant (Manassas) Bring family & friends for a delicious dining experience.
More April Events:
4/2 Demolition Derby at the Prince William County Fairgrounds (Manassas) The Fair Grounds is thrilled to host another Demolition Derby this Spring.
4/2 The Market Place at the Fairgrounds (Manassas) The MARKET PLACE at The Fairgrounds will highlight a variety of local vendors and thrifters. You never know what treasures you will find!
4/2 18th Annual Ballet Ball at Hylton Performing Arts Center (Manassas) This premier annual fundraiser will feature a delicious dinner, open bar, live music, dancing, and a raffle with live and silent online auctions! Dress up, dine, dance, and enjoy a wonderful evening out while supporting the dancers of Manassas Ballet Theatre.
4/3 Tunnel to Towers 5k at Pfitzner Stadium Complex (Woodbridge) The Tunnel to Towers Prince William, VA 5K Run & Walk is an annual event that honors and supports first responders and military service members.
4/9 Spring Showers Drag Brunch at Madigan's Waterfront (Occoquan) The queens are back by popular demand. Join the team at Madigan's Waterfront for this fun filled brunch with some of the most fabulous drag queens in the DMV! 
4/13 Take a Sip of History at Water's End Brewery (Lake Ridge) Prince William County's Lake Ridge area went through many changes over the years. Join local historians for an evening of storytelling and local craft beer at Water's End Brewery in Lake Ridge.
4/30 200th Anniversary Celebration at Brentsville Courthouse (Bristow) For the 200th Anniversary of Brentsville Courthouse, join the Prince William County Historic Preservation team for an array of activities and celebration that will include mock trials, historic tradespeople, militia muster, markets, music, food, demonstrations and more.
###