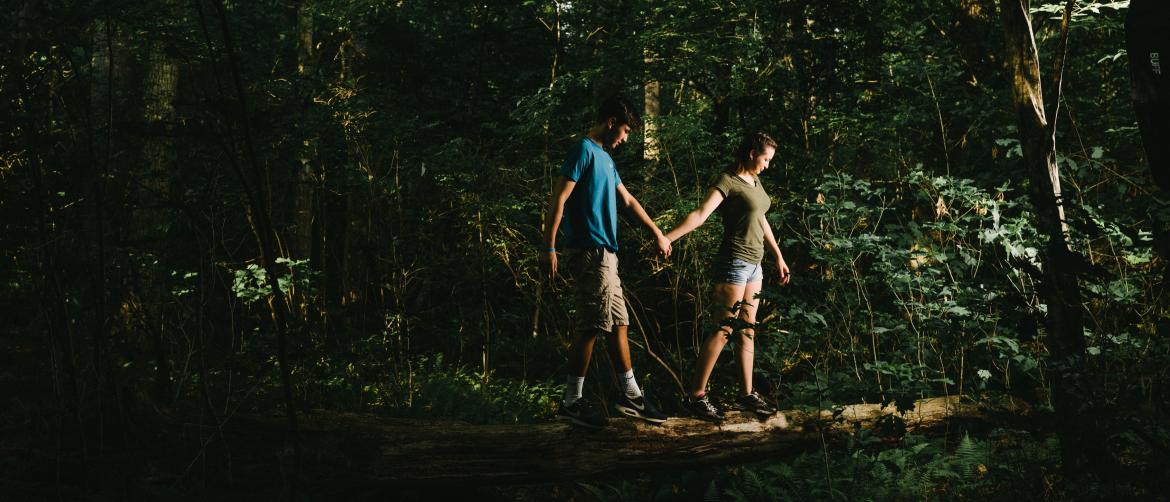 Whether you're new to hiking or an avid trailblazer, Prince William, VA has a wide variety of scenic hikes to enjoy. Hike through hallowed grounds, challenge your stamina, or enjoy a family-friendly excursion - here are 8 hikes that you won't want to miss.
1. Deep Cut Loop Trail 
Head over to Manassas National Battlefield Park for a 1.2-mile historic hike along Deep Cut Loop Trail. This awesome trail follows the line of the unfinished Manassas gap railroad that was occupied by Stonewall Jackson's troops during the Battle of Second Manassas in August 1862. The trail is well marked with historical markers showing the points of view of the participants of both sides during the battle. The trail has a couple of moderate hills however it is still a relatively easy hike. View the Manassas National Battlefield Park Trail Map.
2. Conway Robinson State Forest
Open daily from 7 am to 7 pm, Conway Robinson State Forest is easily accessible, with plenty of beautiful forest scenery to enthrall you during your hike. With a variety of trails to enjoy, your hike can last anywhere between 1 to 3 miles, depending on which trail you choose. For the most part, the trails are easy to hike and fairly flat -  an ideal hike to do with your family. View the Conway Robinson State Forest Trail Map.
3. Locust Shade Park
Located just minutes from I-95, next to the National Museum of the Marine Corps, you will find Locust Shade Park. Open year-round, this 400-acre park has some lovely, picturesque trails waiting to be explored. There are 3.2 miles of scenic nature trails and a 15-station fitness trail - for those looking to work-out or to improve their stamina. The fitness trail goes through some hilly and wooded terrain, so be sure to wear appropriate footwear. View Locust Shade Park Trail Map
4. Matthews Hill
Another trail set at historical Manassas National Battlefield Park is the Matthews Hill one-mile loop. Begin your hike at the Matthews Hill parking lot where the trail leads upwards. At the top of the hill, you'll be able to enjoy the view of the historic Stone House on Henry Hill in the distance. The trail then descends down the hill and enter the woods. Historical markers along the trail reference the Battle of First Manassas (Bull Run). Explore additional trails telling the story of Battle of First Manassas (Bull Run).
Image credit @wjswayne 
5. Silver Lake Regional Park
If you're looking for a hike with plenty of scenic beauty, then take a trip to Silver Lake Regional Park. This 230-acres park offers pine forests, rolling meadows, and a 23-acre lake. There are four miles of hiking and equestrian trails, picnic areas and public restrooms available - making it a perfect spot for a family hike. View Silver Lake Park Trail Map.
6. James Long Park
The trails at James Long Park run along natural surfaces, including some terrain which is both hilly and wooded. The trail is approximately 4 miles long and is often shared between hikers and equestrians. This is another good family-friendly location, with plenty of activities on offer, including a playground. The trail also allows for some lovely views of the Catharpin Creek. View James Long Park Trail Map.
7. George Hellwig Memorial Park
The main attraction here is the one-mile stonedust looped trail through the woods. The George Hellwig Memorial Park trail is perfect for beginners or experienced hikers looking for a place to train. The trail also features a variety of fitness stations. Bringing the kids? Enjoy a picnic lunch in the pavilion next to the playground.  View George Hellwig Memorial Park Trail Map
8. Nokesville Park
At Nokesville Park, you will find 2 miles worth of natural surface trails as well as additional trail routes that take you around the edges of the park. The trails are shared between hikers, cyclists and equestrians, so be sure to remain attentive whilst enjoying the wonderful scenery.  View Nokesville Park Trail Map