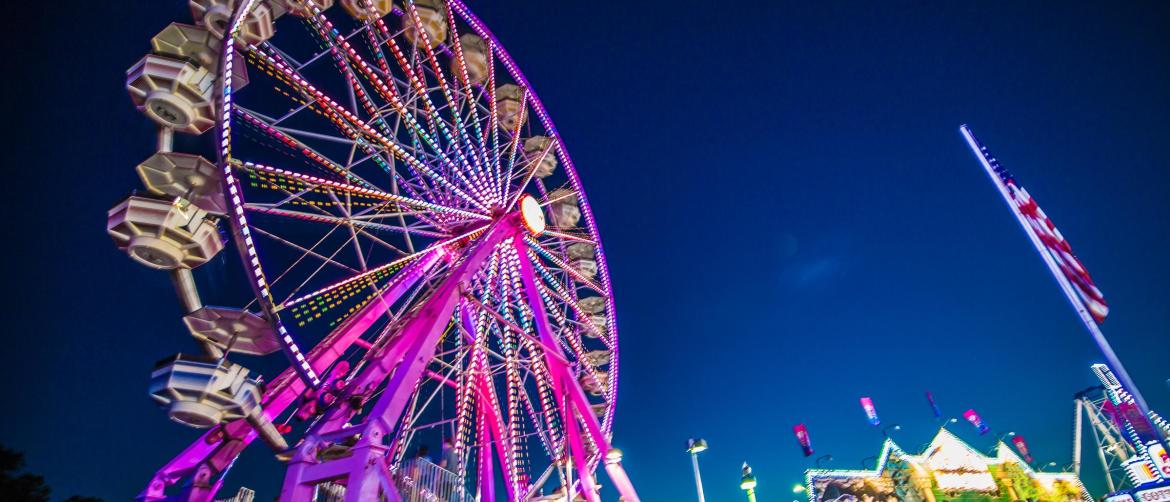 With summer coming to a close, it's almost time for the 74th annual Prince William County Fair! This year's fair will run from August 11th-19th and is a great way to spend time with friends and family before school starts up again.
Tickets range from $10 for children/seniors to $20 for adults while children under 4 are granted free entry. All tickets include parking, midway shows, interactive animal exhibits, and home arts demonstrations. Wristbands are available for sale each day for unlimited ride access and range in cost from $23-$33 depending on the day of the week.
Every day a variety of events and activities will take place including a petting zoo, dog show, camel and pony rides, and mechanical bull rides. Check out the award-winning florals, crafts, and photographs on display at the Home Arts Building and view the farming antiques and tractors located at the Heritage Barn each day. More local crafts and vendors can be found at the commercial building. Thrill rides, kids rides, and carnival games will be available throughout the week.
Each year a number of contests are held, and local entertainers come out to support the fair. Here's this year's lineup for special events:
Monday, August 14th

Trey Schneider: 7:00 at Grandstand
4H Family Fun Night: 5:00 at Show Barn

Tuesday, August 15th

Power Wheels: 5:00 at Grand Stand
Garden Tractor: 7:00 at Grand Stand
Carrie Brockwell: 7:00 at Show Barn

Wednesday, August 16th

Monster Trucks: 7:00 at Grand Stand
Page Country Ramblers: 7:00 at Show Barn

Thursday, August 17th

Monster Trucks: 7:00 at Grandstand
Swine Show: 6:00 at Sheep/Hog Barn
Mullet Contest: 5:00 at Show Barn
Spencer Hatcher: 7:00 at Show Barn

Friday, August 18th

Motocross: 7:00 at Grandstand
Dairy Cattle Show: 10:00 a.m. at Sheep/Hog Barn
Sheep Show: 4:00 at Sheep/Hog Barn
Home Arts Awards: 6:30 at Show Barn
Hot Rod Rockers: 7:00 at Show Barn

Saturday, August 19th

Demolition Derby: 7:00 at Grandstand
Lionel Ward: 7:00 at Show Barn
The New World Band: 9:00 at Show Barn
For a complete schedule, map of the fairgrounds, and coupons for certain vendors, download the 2023 PWC fair brochure.