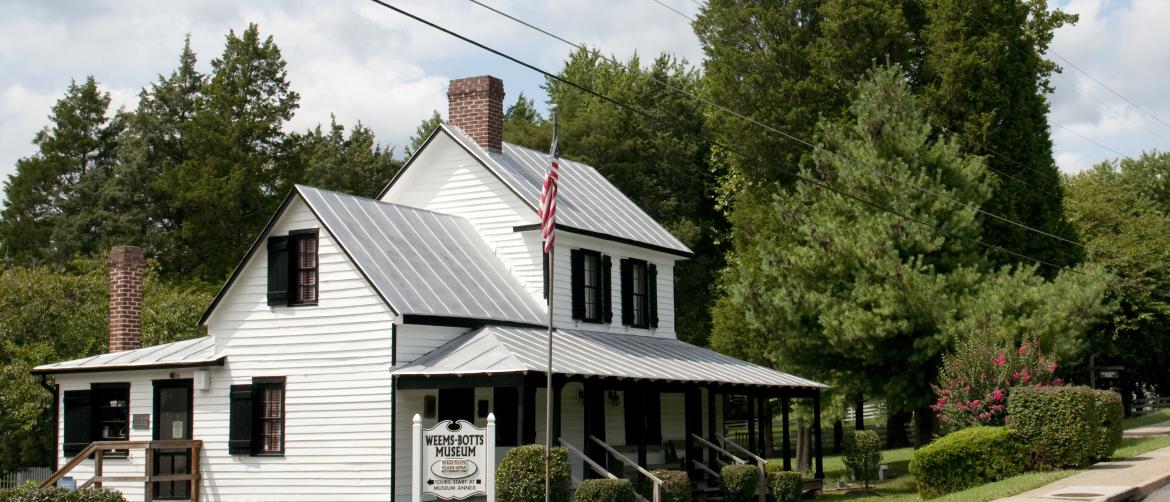 The Town of Dumfries is Virginia's oldest chartered town and was once a major East Coast port. As its power through commerce grew so did its connection to wealthy Virginians. One of those prominent figures was President George Washington. Washington's first biographer, Mason Locke "Parson" Weems wrote The Life of Washington, where the tale of the cherry tree was first coined. Today, Washington's and Weems's stories continue to be told and interpreted through programs held on-site at the Weems-Botts Museum in Dumfries or at your hotel.
Below are some of the programs available for your groups:
Youth Programs:
Project Debunk
Students will discuss and participate in activities designed to help them sort myth from reality, such as the Cherry Tree fable. How do we know what we know? Uncover historical facts from myths and delve into documents and artifacts to find the answers.
On-site or Off-site, 30-45 minutes (adaptable)
Centuries of Change
Join us as we tour the historic house to understand how buildings and structures can be adapted for completely different purposes throughout the centuries. Students will engage with documents and artifacts while they explore a house boasting 18th-20th-century styles.
On-site, 30-45 minutes (adaptable)
Adult Programs:​
"Charm of All-Conquering Truth": The Cherry Tree and Other Enduring Tales of American Virtue
Features a discussion of the unique and surprising George Washington fables, historian's interpretations, and the long-lasting impact of Parson Weems. White Glove Specialty: "Hidden" But Not Forgotten Collection Books.
On-site or Off-site, 30-45 minutes (adaptable)
This "Old, God-forsaken Town": Dumfries Evolving Image Throughout the 18th and 19th Centuries
Features: A brief overview of the rise and fall of Dumfries, as the people experienced the highs and lows of tobacco and war.
On-site or Off-site, 30-45 minutes (adaptable)
Seasonal Delights
Curious about our historic holiday traditions and past celebrations? What are the roots of our folklore and how have traditions and stories evolved? Learn about the upcoming holiday in this seasonally varying program.
On-site or Off-site, 20-30 minutes (adaptable)
Download Program Specific PDF Files