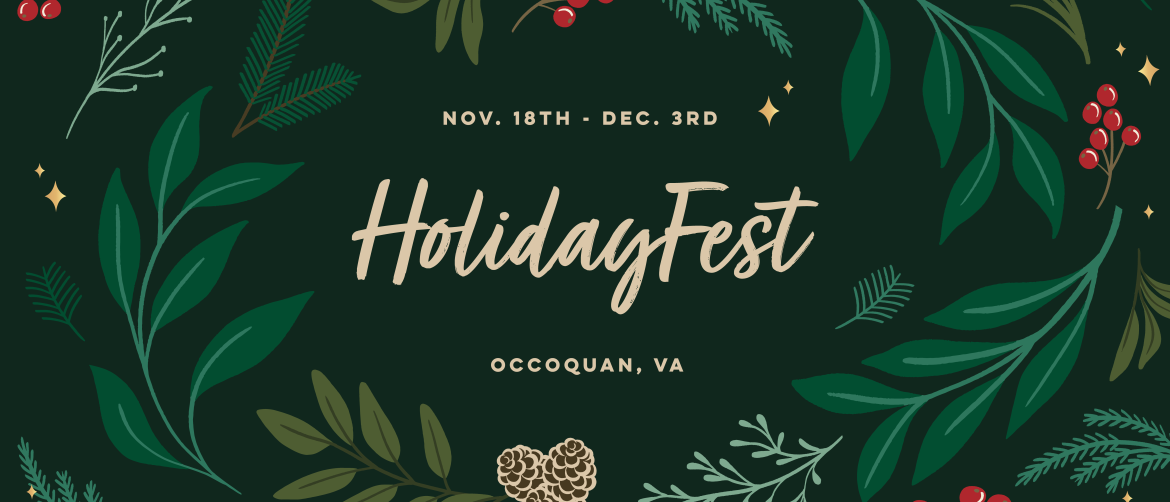 (Occoquan, VA)— It's not the holidays without a trip to beautiful historic downtown Occoquan. With all the decorations this time of year, our riverfront town looks straight out of a Hallmark movie, and we have all the festive events to go with it! Join us during HolidayFest for our Annual Tree Lighting, the Shop, Dine, & Win Contest, our Holiday Artisan Market and much, much more! HolidayFest runs November 18 through December 3 and there's plenty of shopping, entertainment, and family fun planned for this magical time of year. For more information and schedules, see visitoccoquanva.com/holiday.
HOLIDAYFEST 
Annual Tree Lighting | Saturday, November 18
Historic District
Join us Saturday, November 18 at 6pm in front of Town Hall for our annual Tree Lighting. Mayor Porta will officiate this time-honored tradition as Occoquan residents and visitors gather to kick off the holiday season. The New Dominion Choraliers will create a festive ambience at the gathering. Once the tree is lit, mosey through our new pop-up market toward River Mill Park. From 5pm to 8pm, fire pits will be burning and ready for visitors to roast marshmallows. S'more packets, hot cocoa, cider, plus many other yummy delights will be available for purchase. From 4pm to 8pm, visitors on Saturday may also stop into their favorite participating restaurant to pick up a to-go adult beverage to enjoy as they walk about town.
Shop, Shop, Shop!
Historic District
Businesses in Occoquan are stocked and ready to fill your holiday shopping lists! Many businesses will be open from 11am till 8pm or later on Saturday, November 18. A pop-up market with over 20 vendors is open on Mill Street from 11am to 8pm as well, welcoming some new faces to our busy Saturday. 
Shop, Dine, & Win! Contest | November 18 – December 3
Historic District
Shop and dine at your favorite Occoquan businesses for a chance to win $1,500+ in Occoquan business gift cards! Occoquan merchants have unique offerings of home decor, clothing, gourmet food, fine art, beauty, chocolates, jewelry, stationery, and gifts for all ages. See rules for play at visitoccoquanva.com/holiday.
Shop Small Weekend | November 25 – 27
Historic District
Get a jump on (or finish up) your holiday shopping at the best small boutiques and retailers in the area! When you #shopsmall and #shoplocal, you're supporting your neighborhood artists, shop keeps, restaurant owners and their hardworking staff. Businesses are busy curating unique holiday selections just for you! 
HOLIDAY ARTISAN MARKET
Saturday, December 2, 11am – 7pm
Sunday, December 3, 11am - 4pm
West Mill Street and River Mill Park
Our annual Holiday Artisan Market transforms the west side of Mill Street and River Mill Park into a magical holiday shopping experience! Join us on December 2 & 3 when artisans and makers will offer original, handmade work in a full range of media. From handmade bath and body products, candles, gourmet food products and home décor to fine art and jewelry, you are sure to find the perfect gift for everyone on your holiday list–and maybe something for yourself too. Saturday, from 11am to 8pm, pick up your favorite adult beverage to carry with you through the Artisan Market. Frees shuttle service into town is available all weekend. For updates or to learn more, go to occoquanfestivals.com or visitoccoquanva.com/holiday.​
Visit With Santa | December 2 & 3
River Mill Park
Visit with Santa while you are in town! The big guy will arrive by boat at the town dock at Mamie Davis Park (202 Mill Street) on December 2 at 10:45am. Kids of all ages are then invited to escort Santa to River Mill Park. He will be ready to visit with families from 11am to 1:00pm both market days.
Gingerbread House Contest | December 2 & 3
River Mill Park
While in town, don't pass up the opportunity to vote for your favorite gingerbread creation in each of these categories:​ Traditional Gingerbread, Authentic Reproduction, Gingerbread Creations (Youth). Winners will be announced December 3 at 3:45pm. Want to enter? See visitoccoquanva.com/holiday for rules.
Arts & Crafts…and Alpacas! | December 2 & 3
River Mill Park
Kids can make crafty gifts at the art table in River Mill Park, write a letter to Santa or stop by the Bracelet Bar for a make and take. Come meet our new alpaca friends, Connie and Carmella, while you're there. You can visit with them or give them a snack!
Letters to Santa | November 18 – December 15
Drop your letter to Santa in our special North Pole mailboxes at Town Hall (314 Mill Street) or Hitchcock Paper Co. (125 Mill Street) from November 18 to December 15. Free coloring and fill-in Santa letters with envelopes will be available to kids of all ages at Hitchcock Paper Co. If you include a return address, Santa will send a personalized letter back!
FREE Shuttle Service into Historic Occoquan!
Enjoy Occoquan more and hunt for parking less! Hop on the free Occoquan Express this holiday season with EXTENDED days and hours during our HolidayFest events:
Saturday, Nov. 11 - 12:00pm-8:00pm
Saturday, Nov. 18 - 12:00pm-9:00pm
Saturday, Nov. 25 - 12:00pm-8:00pm
Saturday, Dec. 2 - 10:00am-8:00pm
Sunday, Dec. 3 - 10:00am-5:00pm
Saturday, Dec. 9 - 12:00pm-8:00pm
Saturday, Dec. 16 - 12:00pm-8:00pm
For full Occoquan Express details, see visitoccoquanva.com/express.
For HolidayFest updates or to learn more, go to visitoccoquanva.com/holiday.
MEDIA CONTACTS
Town of Occoquan
Julie Little
Events and Community Development Director
(703) 491-1918
instagram.com/townofoccoquan
Visit Occoquan
Sarah Hitchcock Burzio
Vice President & Media Relations
(202) 415-0839
facebook.com/visitoccoquan
instagram.com/visitoccoquan
twitter.com/visitoccoquan