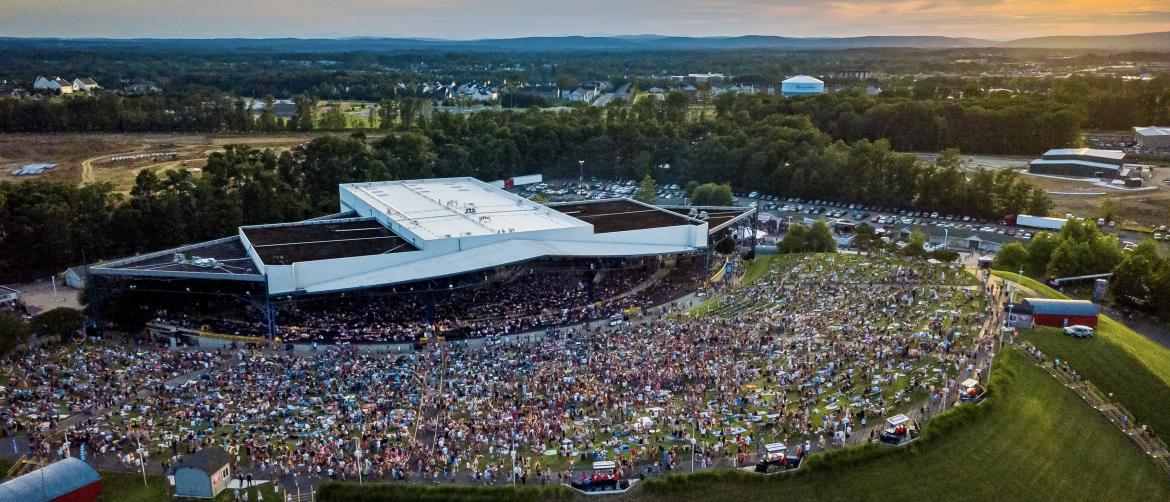 Photo Credit: Wayne Ward 
Looking for the Hottest Concerts around?
Jiffy Lube Live hosts some of the biggest names in the music industry at its 25,000-seat outdoor amphitheater. Located a little over 30 miles from Washington, DC, in Bristow, VA, Jiffy Lube Live offers a wide variety of music genres for concertgoers to enjoy. 
Concertgoers can choose to select one of the 10,000 reserved seats in the covered section close to the stage, or they can opt for the general admission lawn seats. The lawn seats are on a grassy slope that provides natural tiered seating. Guests are welcome to bring a blanket to sit on to enjoy the show. No outdoor food and drinks are allowed into the venue (except one sealed water bottle per person).  No worries, though; there are plenty of tasty food and drink options on-site to enjoy.
2023 Jiffy Lube Live Concert Series
Janet Jackson: Together Again – Saturday, May 6: Experience the pop icon as she celebrates the 25th anniversary of her classic LP, The Velvet Rope.
Dead & Company: The Final Tour – Saturday, June 3: Tickets will move quickly as the classic rock band takes their final bows.
Kane Brown: Drunk or Dreaming Tour – Saturday, June 24: Pack your dancing shoes because this country star is bringing the party to Prince William County.
Fall Out Boy – So Much For (Tour) Dust – Wednesday, July 19: Multi-platinum rock band Fall Out Boy is bringing a high-energy show featuring your favorite songs and new music.
Matchbox 20 – Thursday, July 27: Reminisce with some alternative rock as the band brings their hits.
Dierks Bentley: Gold and Gravel Tour – Saturday, July 29: Get ready for high-energy performances and a unique take on the country sound as Dierks Bentley brings his hits and new material.
Eric Church: The Outsiders Revival Tour – Saturday, August 5: The country singer-songwriter is bringing the sounds of the North Carolina mountains to Prince William County.
Disturbed: Take Back Your Life Tour – Wednesday, August 9: With eight studio albums, five of which debuted at number one on the Billboard 200, Disturbed is one of the most successful heavy metal bands of the 21st century.
Jelly Roll: Backroad Baptism Tour 2023 – Friday, August 11: This crossover artist brings a background in rock and rap to his contemporary, outlaw country music.
Pentatonix: The World Tour with special guest Lauren Alaina – Saturday, August 12: This Grammy Award-winning a cappella group brings vocal perfection to their pop arrangements.
Ghost Re-Imperatour U.S.A with Amon Amarth – Thursday, August 24: After their fifth studio album, Swedish rock band Ghost is taking the show on the road.
Nickleback: Get Rollin' Tour – Saturday, August 26: Are you ready to feel like a rockstar? The Canadian pop-rock group Nickleback is bringing their hits to Bristow in their Get Rollin' Tour.
Pantera & Lamb of Godthos – Friday, September 15: Get ready for an electrifying night of some of the best music the heavy metal genre has to offer.
**Check back often for newly added concerts.**
Places to Stay near Jiffy Lube Live
Place to Eat Near Jiffy Lube Live