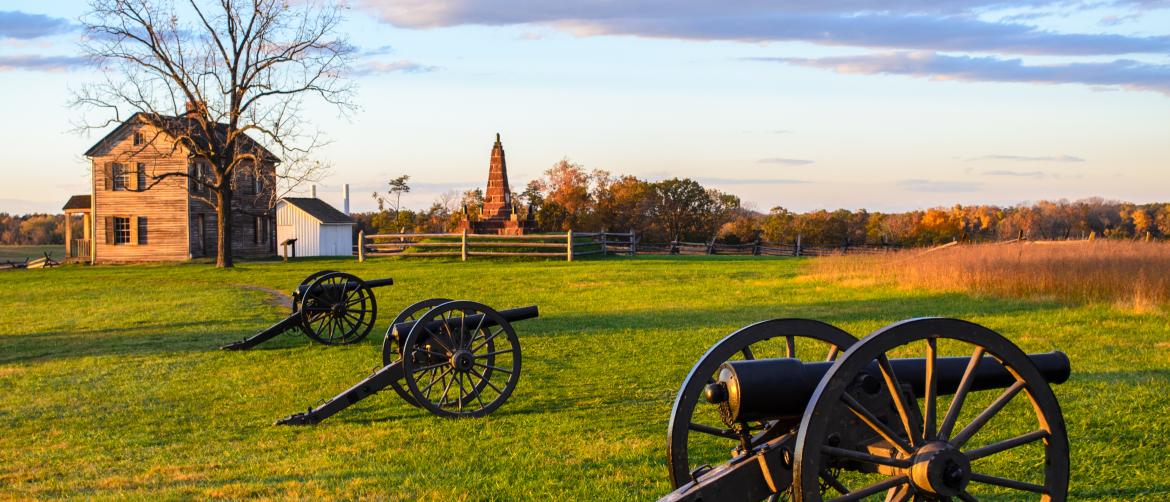 Located a short drive due west of Washington, DC, Manassas and the surrounding Northern Virginia countryside were sites for several critical battles between 1861 and 1863. From the First Battle of Manassas (Occ. July 21, 1861) through Robert E. Lee's last military offensive at Bristoe Station October 14, 1863, there are several battlefields and sites ideal for history-enthusiasts to explore.
Stop #1: Manassas National Battlefield  Park
Manassas National Battlefield Park
6511 Sudley Road
Manassas, VA 20109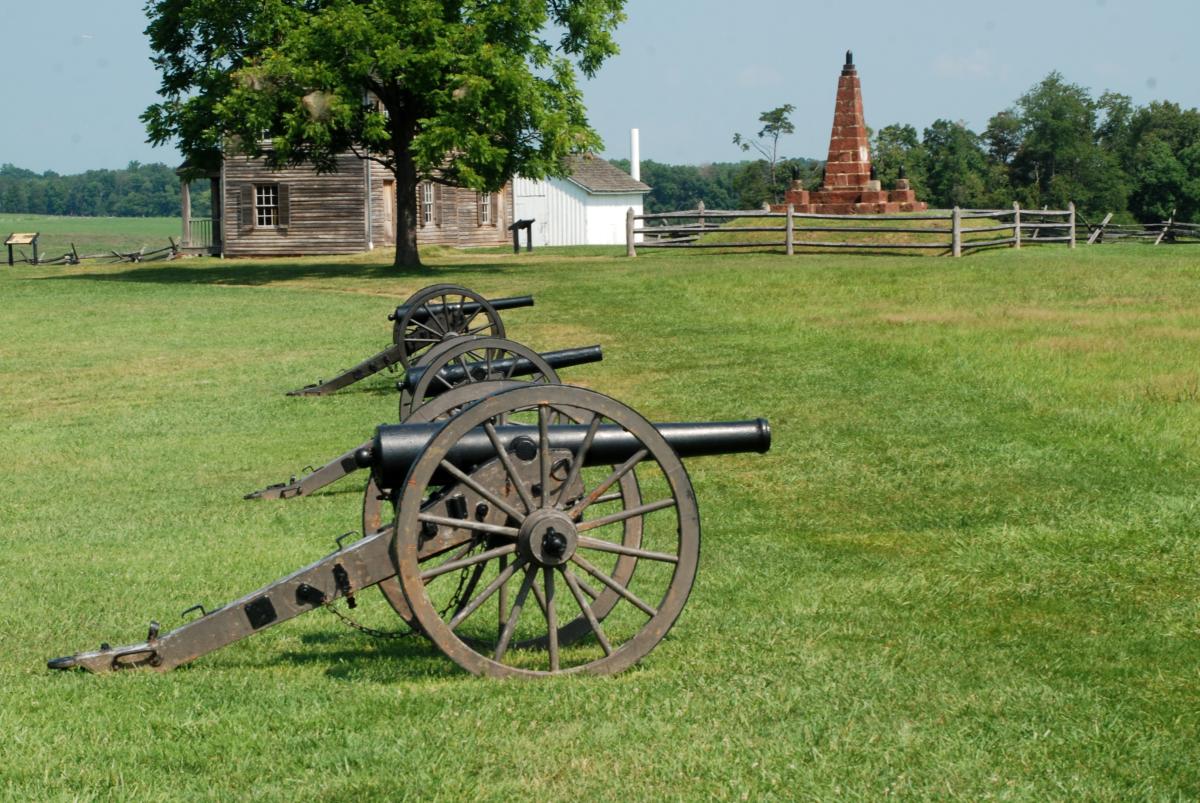 Union and Confederate armies met on the grounds of Manassas National Battlefield Park in July 1861 and August 1862.
Within the park's over 5,000 preserved acres, there's an array of activities, scenic vistas, historic sites and walking trails to interest the casual visitor and the dedicated  Civil War historian. A good place to begin your visit is the Henry Hill Visitor Center where you may view a 45-minute orientation film about both the First and Second Battles of Manassas (Bull Run), tour museum exhibits and browse the bookstore.
Why were the Battles of Manassas (Bull Run) significant?
The First Battle of Manassas (Bull Run) was the first major land battle of the American Civil War. The battle began July 21, 1861, when about 35,000 Union troops marched from Washington, D.C. to strike a Confederate army of 20,000. Over a couple of hours, Union troops pushed the Confederate army across the Warrington turnpike and up Henry House Hill. Onlookers (reporters, congressmen, etc)  watching the battle from the nearby countryside prematurely celebrated a Union victory. However, Confederate reinforcement soon arrived on the battlefield rallying the Confederate troops. By afternoon, Thomas J. Jackson (aka Stonewall Jackson) held the important high-ground position at Henry House Hill leading to the retreat of the Union army.  The victory provided a surge of confidence to the Confederate army.
The Second Battle of Manassas (Bull Run) was fought August 28–30, 1862. The battle was the culmination of the Northern Virginia Campaign waged by Confederate General Robert E. Lee's army of 50,000 against Union Major General John Pope's troops of 62,000. The battle resulted in high casualties for both sides - the Union army with 14,000 dead or wounded and the Confederates had over 8,000 deaths. In the end, the battle brought a stunning Confederate victory over the Union army. 
There are several ways to experience the battlefield:
Take the 20-mile self-guided driving tour (about 2-3 hours) (info available at Henry Hill Visitors Center)

Use the American Battlefield Trust's free Bull Run App on your phone or another device for a self-guided tour
Stop #2: Brawner Farm Interpretive Center
Brawner Farm Interpretive Center
6501 Pageland Ln
Gainsville, VA 20155

Established in the early 19th century, Brawner Farm lies in a western corner of the battlefield. Many artifacts from the war era have been found on the site, which interprets the Second Battle of Manassas. Remains of the battle on display include fired bullets, U.S. military buttons, and artillery shell fragments. Artifacts left by people who lived on the antebellum farm are also on display.
There are several ways to experience Brawner Farm:
Take a self-guided tour of the museum dedicated to the Second Battle of Manassas (about 30 minutes)

Take a ranger-led tour of the battlefields at Brawner Farm (about 45 mins)

Hike the Brawner Farm Loop Trail (1.4-mile trail)
Stop #3: The Winery at Bull Run
The Winery at Bull Run
15950 Lee Highway
Bull Run, VA 20120

Located next to Manassas National Battlefield, The Winery at Bull Run offers a unique blend of fine wine, history and hospitality. 
There are several ways to experience the winery:
Visitors curious about the winery's Civil War history and wine production can participate in the Historical Tour and Tasting, which combines a property walk, visits to actual Civil War sites on the property, and wine tastings along the way. If time is short, a full tasting and brief walking tour may be done in about an hour.

If you're visiting in the fall, the winery's Haunted Wine Tours provides an eerie and grape experiences for spirit-seekers.

Reserve a picnic table. Enjoy artisan snacks and wine with a view overlooking the vineyard and horse farm.
Places to Stay Near the Battlefield
Day Two
Stop #1: Ben Lomond Historic Site
Ben Lomond Historic Site
10321 Sudley Manor Dr
Manassas, VA 20109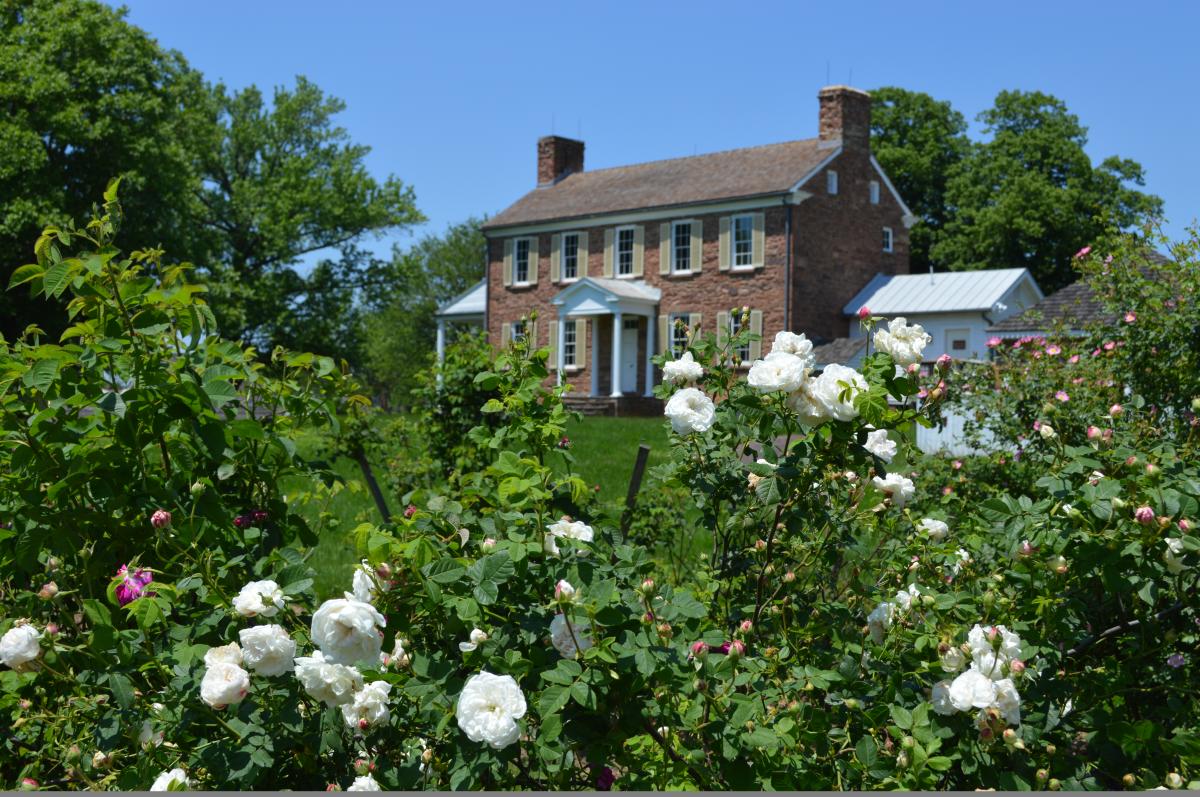 Dating to 1832, this fieldstone house and its original restored slave quarters near the national battlefield offer both Colonial and Civil War stories. Confederate forces used Ben Lomond as a hospital after the 1861 Battle of First Manassas.  Signatures of Federal soldiers who later occupied the house are visible on interior walls making Ben Lomond a stop on Virginia's Civil War Graffiti Trail.  
There are several ways to experience Ben Lomond:
Tour this historic site and experience history in the smells, touches, tastes and sounds.

Visit an original slave quarter provides a glimpse of the 100 years of slavery that was an integral part of Ben Lomond. A dairy, smokehouse and antebellum kitchen are other places where the enslaved community worked.

If you are visiting in late Spring through early Fall, you'll enjoy one of the largest collections of Old Garden Roses in bloom.
Guided tours are available from May - October from 11 am to 4 pm, other times by appointment at (703) 367-7872.
Stop #2: Bristoe Station Battlefield Heritage Park
Bristoe Station Battlefield Heritage Park
10708 Bristow Rd
Bristow, VA 20136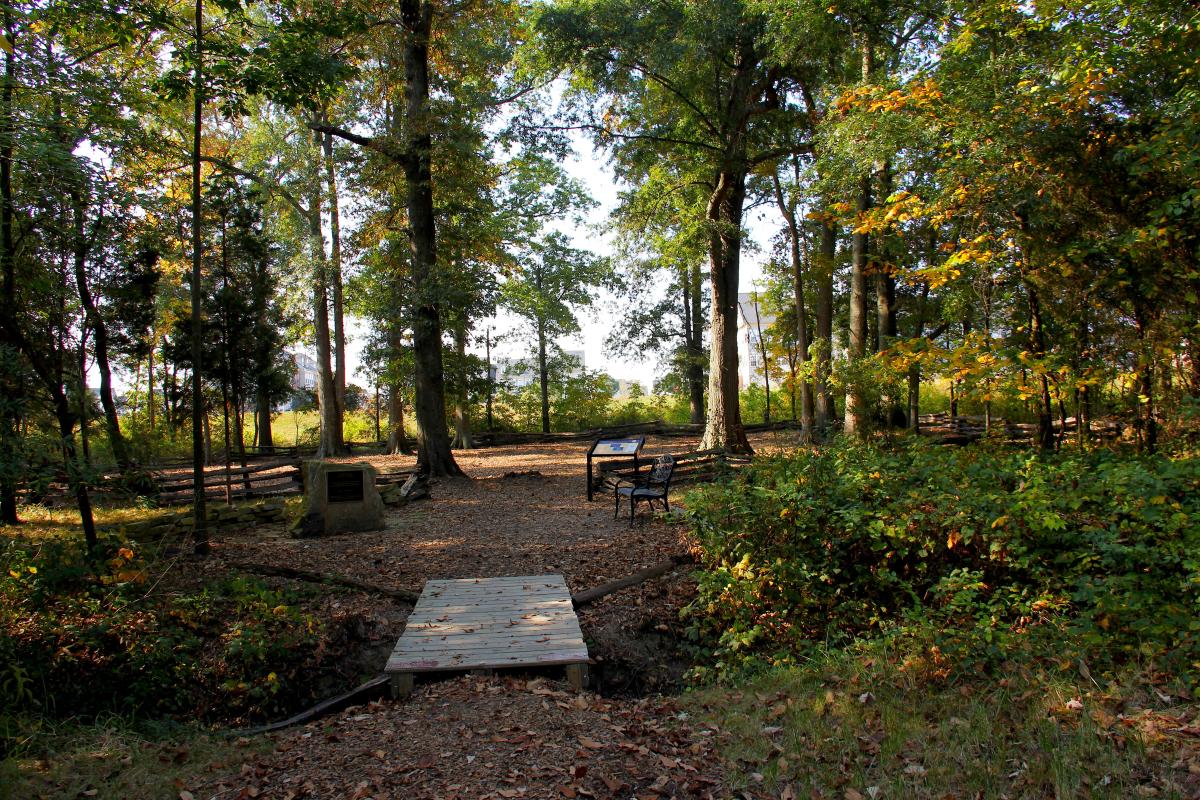 Two significant Civil War battles - the Battle of Kettle Run during the Second Manassas Campaign on August 27, 1862, and the Battle of Bristoe Station on October 14, 1863 - occurred at Bristoe Station Battlefield Heritage Park. The Battle of Bristoe Station was fought by Robert E. Lee as one of the last major battles of the Civil War. Trails are open daily on this 140-acre preserved site.
There are several ways to experience Bristoe Station Battlefield:
Take a guided tour on the second and fourth weekends of the month from May through October. (Times are 11 am, 1 pm and 3 pm)

Hike the more than 2.7 miles of gravel walking trails - (don't miss the Alabama Cemetery and memorial)
Stop #3: Farm Brew Live 
Farm Brew Live
9901 Discovery Blvd
Manassas, VA 20109

In the early 1900's, the two-silos Thomasson Barn was a dairy farm providing milk to suppliers in Washington, DC and surrounding areas. Today, this historical barn and surrounding lands have been reimagined into a 10-acres campus combining craft beer, food and music into one must-visit location.
Farm Brew Live consists of 2 Silos Brewing Company, the Yard outdoor live music venue, the Pit BBQ and beer garden, and La Gringa Food Truck. The Black Sheep whiskey +  wine + noshery, with a menu of crafted whiskeys and wines, is forthcoming.
There are several ways to experience Farm Brew Live:
Take a tour and sample a flight of beer at 2 Silos Brewing Company a 30-barrel brew house.

Enjoy food and drinks while listening to featured local and regional artists at the Yard's outdoor music stage

Visiting in the winter months? Reserve your own private igloo for you and your friends (guest assistance for personal food and beverages is included).