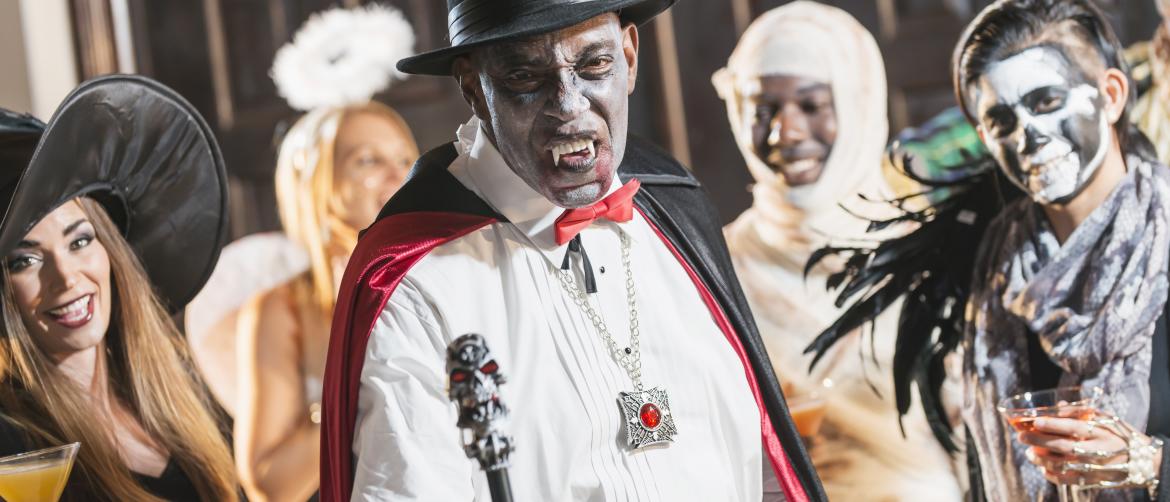 Fall is in the air, and Prince William County, Virginia, is ready to welcome you to the spooky season!
Whether you're a kid, an adult, or part of a family looking for thrilling adventures, there's something for everyone here. As the leaves change color and the air gets crisp, get ready to explore the exciting activities that await in this charming Virginia county. Grab your costumes and join us for a spooktacular time you won't soon forget!
Historic Preservation
Murder Mystery at Rippon Lodge
October 14th

Shows at 4:00 p.m. and 6:00 p.m.

Not appropriate for children
$10 per person, pre-purchased ticket required.
Just when everyone is enjoying a grand time at the party, something goes array. A cast of suspects, and one had murder on their agenda. Who did it? That is up to you to discover. Join us for this live production.
Campfire Ghost Stories of Ben Lomond
October 27th

7:30 p.m. to 9:00 p.m.

Family friendly
$5 per person, children 6 and under are free
Bring your own lawn chair and flashlight
Ben Lomond has a diverse and grim history as a Civil War hospital, a farm, and a private home. Over the years, many local residents have claimed to see ghosts and other spooky happenings at the site. Is Ben Lomond haunted or not? Join us for an eerie evening around the campfire to hear some of the ghost stories associated with the historic site.
Spirits of Brentsville Haunted History Trail
October 28th

7:00 p.m. to 9:00 p.m. with groups leaving every 20 minutes

 Not appropriate for children
$15 per person, space is limited, and advance tickets are recommended
Purchase tickets online from or over the phone at 703-365-7895
In 1822, the small, unassuming town of Brentsville opened as the County Seat. For over 200 years, the town was the site of trials and triumphs. From trials, war, and murder to depression, pranks and more. The spirits of Brentsville have awakened and are eager to meet you. Participants will want to watch their backs as they take a walk through Brentsville's most terrifying moments in history complete with ghost stories and surprises.
Breweries & Spirits
2 Silos Brewing Co Brews and Boos
Elizabethany from Hot 99.5 is partnering with 2 Silos for a Halloween bash and costume contest! Dress in your best Halloween costume for a chance to win cash prizes of $500, $1,000 or even $2,000. 2nd and 3rd place winners will also receive a Villagio Hospitality Group Gift Card.
Occoquan's Spirits and Spirits
October 27th and 28th

Get ready for a spooky good time during spirits and spirits at Historic Occoquan, VA
A free shuttle service will be available throughout the event from the parking available at the Rt. 123/Old Bridge commuter lot to the Haunted Maze and Spirit Garden
Haunted Maze and Spirit Garden
October 28th at 305 Mill Street

5:00 p.m. to 10:00 p.m.

For adults and older kids only
Tickets for the maze is $10 at the door or advance and all event proceeds benefit local non-profit Patriots for Disabled Divers
Come prepared to be scared! Enter the maze through the spooky Spirit Garden, then navigate your way through 15 themed areas full of scary skeletons, creepy crawlies, and ghoulish goblins. You might even run into the grim reaper in one of the 32 scare zones!
When you are sufficiently spooked, quench your thirst at the DIVE Bar located just outside the maze in the Spirit Garden. Order a Halloween themed spirit as a DJ spins dance music fit for all ghosts and ghouls. Plenty of seating will be available, so grab some food from D'Roccos Grill while you're there! No tickets required for the Spirit Garden.
Family Friendly Events
Family Pumpkin Carving Contest
October 14th

Veterans Memorial Park

10:00 a.m. to 12:00 p.m.
$5 to attend, must preregister in advance
Does your family love to carve pumpkins? If so, come join us at our first annual Family Pumpkin Carving Contest at Veterans Memorial Park this October! Start planning your scary, spooky, happy, funny, and/or silly pumpkin designs! Each family will receive carving utensils and one pumpkin to carve to submit for judging.
2023 PetOberfest
October 14th

Stonebridge at Potomac Town Center

11:00 a.m. to 4:00 p.m.
All are welcome to attend and enjoy free family and pet friendly activities including: a pet parade/costume contest, a lure course, an agility course, pet-friendly exhibitors, children's entertainment, store discounts, prizes, and much more. Pet photo booth donations will benefit the Prince William SPCA. All pets in attendance must be leashed.
Coco in Concert
October 21st

Hylton Performing Arts Center

7:00 p.m. to 9:00 p.m.
Tickets range from $29-$48 and can be purchased online now
Disney and Pixar's award-winning film, Coco, thrills the whole family when shown with a 20-piece Latin music ensemble performing the soundtrack live in Coco in Concert. The family-friendly movie, set to Michael Giacchino's memorable musical score, follows 12-year-old Miguel, an aspiring musician born into a family that has mysteriously banned music. Miguel wants nothing more than to take the stage and astonish crowds like his musical idol, Ernesto de la Cruz. Intent on proving his budding talent, Miguel embarks on a quest to the stunning and colorful Land of the Dead. Celebrate Hispanic Heritage Month and make memories this year with Coco in Concert.
Prince William Service Authority's Trick or Treatment
October 28th

H.L. Mooney Water Reclamation Facility

10:00 a.m. to 2:00 p.m.
Do you want to celebrate Halloween while you learn about the environment and get to do fun activities? Look no further! Trick or treat your way around tables, hosted by local, environmental organizations, learn about wastewater treatment and the environment and have a chance to take a tour of a real wastewater facility. Trust us it's totally cool.
Appropriate costumes are encouraged!
Best Laid Plans: An Old Hollywood Murder Mystery
October 27th

7:30 p.m.

305 Mill St.
Not appropriate for children
Buy tickets in advance
NEW this year! Come to the quintessential whodunnit thriller at the estate of Sir Warren Peace and get thrown into a night of mystery, intrigue, and murder you will never forget. With a killer crowd of people just waiting for murder to arrive on the scene, this night will keep everyone looking over their shoulders and guessing who the next victim will be! Bribe suspects for clues and gather information to uncover the unhinged guest who is whacking all the invitees. Just be careful because you could be next! Dress your best in evening wear and suits—this is a refined party, after all.
Costume Parade and Contest
October 28th

River Mill Park/Mill Street
10:00 a.m. to 12:00 p.m.
Family Friendly
Starting at 10:00am, Town of Occoquan Mayor Earnie Porta (aka Iron Man) will lead the parade down Mill Street to River Mill Park, where costume judging will take place.
Judging categories include: cutest, scariest, funniest, most original, and family/group.
1st place winners in each costume category will be awarded $25 gift certificates that can be used in select businesses throughout town.
Parade participants will line up near the Riverwalk Shops at 125 Mill Street. The 100 through 400 blocks of Mill Street will be briefly closed on a rolling basis between 10:00-10:30am.
Spooktacular Fall Festival
October 28th - 29th

National Capital Area Council

9:00 a.m. to 10:30 p.m.
Get ready for a frightfully fun weekend at our Spooktacular Fall Festival at Camp William B. Snyder. This new special event will make your Halloween unforgettable! Hayrides, Zombie Run,  Archery, STEM Activities, Fall Delights from food, drink, and craft vendors.  Unlimited Inflatable Bounce Village (Wrist bands at an additional cost) This Spooktacular Fall Festival is the perfect chance to share a hauntingly good time together outdoors.
Free Trick-or-Treat at Virginia Gateway
October 28th

Virginia Gateway

2:00 p.m. to 4:00 p.m.
Family friendly
Free event
Come have a HOWLING good time at Virginia Gateway's Trick-or-Treat event! The whole family is invited to join us for SPOOKTACULAR FUN! FREE candy and treats for the LITTLE BATS and GHOULS at participating stores on throughout the shopping center. While supplies last.
So, why wait? Pack your bags, bring your loved ones, and get ready for an unforgettable journey into the heart of spooky season in Prince William County. Whether you're a local looking for new traditions or a traveler seeking a unique autumn experience, we promise you won't be disappointed. Join us in celebrating the season of chills, thrills, and pumpkin-spiced delights. See you soon...if you dare!