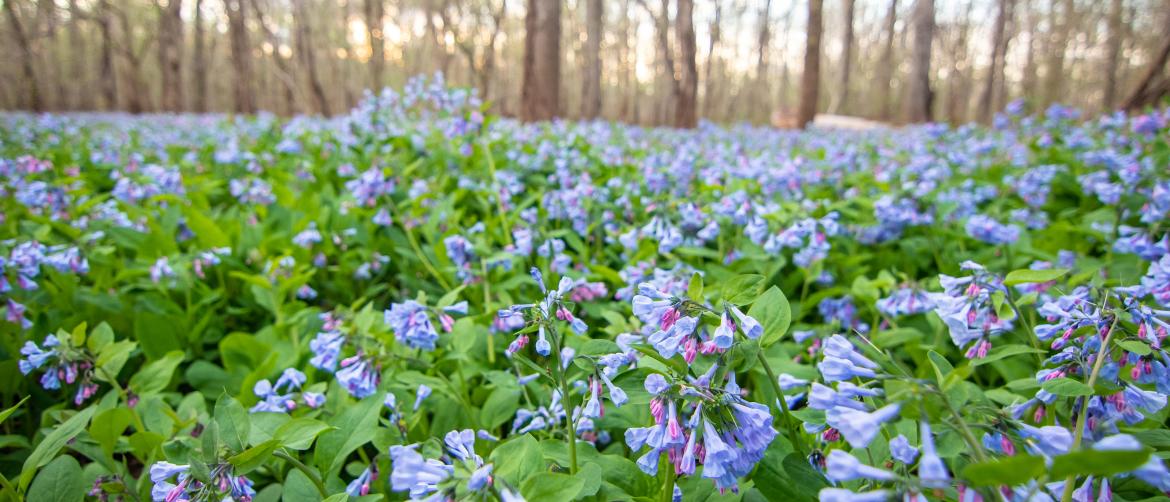 Prince William, Virginia is the perfect place to enjoy the Spring weather with 38 square miles of parkland and green space, and an array of outdoor activities, farms, parks, outdoor dining spots and more.  Events include socially distant in-person and virtual events for the community. Please encourage participants to continue to mask-up and spread out.
Please contact each venue for event confirmation.

Spring Flower Farms to Visit:
4/9 - 4/11 Self-Guided Tours to See Bluebells in Bloom at Merrimac Farm - (Nokesville) Join the Merrimac Farm team on April 9th, 10th, and 11th to welcome spring, celebrate nature, and view the fabulous Virginia Bluebells that carpet the Cedar Run shoreline for nearly a mile. Their staff will be offering info on self-guided tours, handing out bingo card games for the kids, and available to answer any questions you might have about the farm and their beautiful Bluebells.
April Open Date TBD - Burnside Farms Spring Tulip Festival - (Nokesville) Burnside Farm's Festival of Spring is a unique, magical event that is fun for the whole family.  More than eight acres of spring flowers are planted for one of the most spectacular pick-your-own events in North America. More than a million tulips and daffodils in bloom! 
Spring Events:
4/1 – 4/4 Be Hoppy 5K, 10K & Half Marathon (Gainesville) Hop your way into Easter and conquer the Be Hoppy 5K, 10K & Half Marathon! Help support the Anti-Cruelty Society, get the gear mailed right to your door, and see how you stack up against the other Easter bunnies on the National results leader board. 
4/1 – 4/30 Farm Tours at Hope & Serenity Farm Sanctuary (Nokesville) Enjoy the arrival of spring and new beginnings at the Hope & Serenity Farm Sanctuary in Nokesville. This 11-acre working farm shelters more than 150 animals rescued from neglect, abandonment, or abuse. 
4/1 – 4/2 Spring Break Boredom Busters at Weems-Botts Museum (Dumfries) Imagine you are a leader of an ancient city competing with other cities to gather resources, access networks, and build the best wonder. Now put your imagination to the test in this virtual program.
4/4 – 4/25 Dale City Farmers Market (Dale City) With nearly 50 vendors in the Summer and 20+ in the Winter, we are one of the largest open-air markets in the region.
4/10 Doggie Days of Spring – Treat Hunt at Veterans Memorial Park (Woodbridge) Bring your dog to the park and enjoy an afternoon of activities for large and small dogs. Dogs must remain on a leash and be accompanied by an adult age 18 or older. Costume Contest, treat hunt, vendors and more!
4/10 Science & The History of Gardening at Brentsville Courthouse Historic Centre (Bristow) Bring your family to the Haislip-Hall House at Brentsville Historic Centre for a day of science and history while helping the Historic Preservation team plant the vegetable garden at the Historic Haislip-Hall House this spring!
4/17 Free Entrance Day for National Parks at Prince William Forest Park (Triangle) Kick off National Parks Week at Prince William Forest Park. The fee-free days are part of the National Park Service's commitment to increase access, promote recreational opportunities, improve visitor facilities and conserve natural and historical treasures in national parks for the benefit and enjoyment of the American people.   
More April Events:
4/1 Papis' Bootleg Boys Mixology Cocktail Class at MurLarkey (Bristow) Interested in learning how to make amazing craft cocktails?  Then you will LOVE this class! Enjoy a wonderful evening of hands-on creation making three delicious MurLarkey signature craft cocktails while learning the art of shaking, stirring, measuring, juicing, garnishing and MUCH MORE.
4/1 Hike with a Naturalist (Broad Run) Join a professional naturalist and discover the flora and fauna on and around the Bull Run Mountains. These hikes will take place at Leopold's Preserve on the first Thursday of each month.
4/3 - 4/24 Saturday Beer Garden Concert Series at Water's End Brewing (Lake Ridge) Experience local food vendors (2-8PM) and musicians (6-9PM) every Saturday in April at the Outdoor Beer Garden at Water's End Brewery in Lake Ridge. A full list of musicians & vendors will be available on their Facebook events page.
4/3 – 4/25 Aroma Latin Fusion Celebrates National Diversity Month (Woodbridge) Celebrating their diverse Peruvian and Columbian heritage the team at Aroma Latin Fusion will be serving up traditional dishes from Colombian and Peru every weekend throughout the month of April to celebrate National Diversity Month!
4/10 Charcuterie 101 @ The Winery at La Grange (Haymarket) Join the Winery at La Grange team for Charcuterie 101 led by The Grazing Board. This workshop will teach you the basics of how to build a charcuterie grazing board sure to be the centerpiece of the party.
4/10 & 4/11 - Living History Weekend at Evergreen Acres (Nokesville) Evergreen Acres Farm will be hosting a living history event with 30 to 40 re-enactors. On Saturday, visitors will be able to watch soldiers drill in the field all day, visit their camps and ask them questions. Firing demonstrations are at 1:00 & 3:00 pm. There could possibly be a skirmish later in the evening. On Sunday they will be drilling in the field and camps with a firing demonstration at 1:00 pm. There is no charge to attend this event.
4/11 Celebrate Beethoven's 250th Birthday with Jefferey Siegal (Virtual Concert) A digital concert filmed live at the Hylton Performing Arts Center in Manassas, VA; piano virtuoso Jeffrey Siegel celebrates the 250th anniversary of Beethoven's birth with some of the composer's best-loved works. 
4/17 Quantico Creek Clean-Up Day (Dumfries) The 32nd Annual Potomac River Watershed Cleanup will be on Saturday, April 18, 2020. Promote a clean environment, gain more awareness, and have fun. Kids are welcome! Credit for volunteer time will be awarded.
4/22 Virtual Lecture Series: James Longstreet After the Civil War: The Controversy Explained (Virtual) Join Dan Paterson, a descendant of James Longstreet, as he explores the postwar legacy of James Longstreet, the South's most controversial soldier.
4/24 Calligraphy Class in the Brentsville Schoolhouse (Bristow) When the Brentsville Schoolhouse was in use between 1929 and 1944, one of the skills taught to students was penmanship. Have you ever wanted to improve your handwriting skills or be able to make your own invitations? Join historic preservation staff at the historic schoolhouse for a beginner's introduction to the art of calligraphy!
###